NHS organisations cut desflurane in drive for greener surgery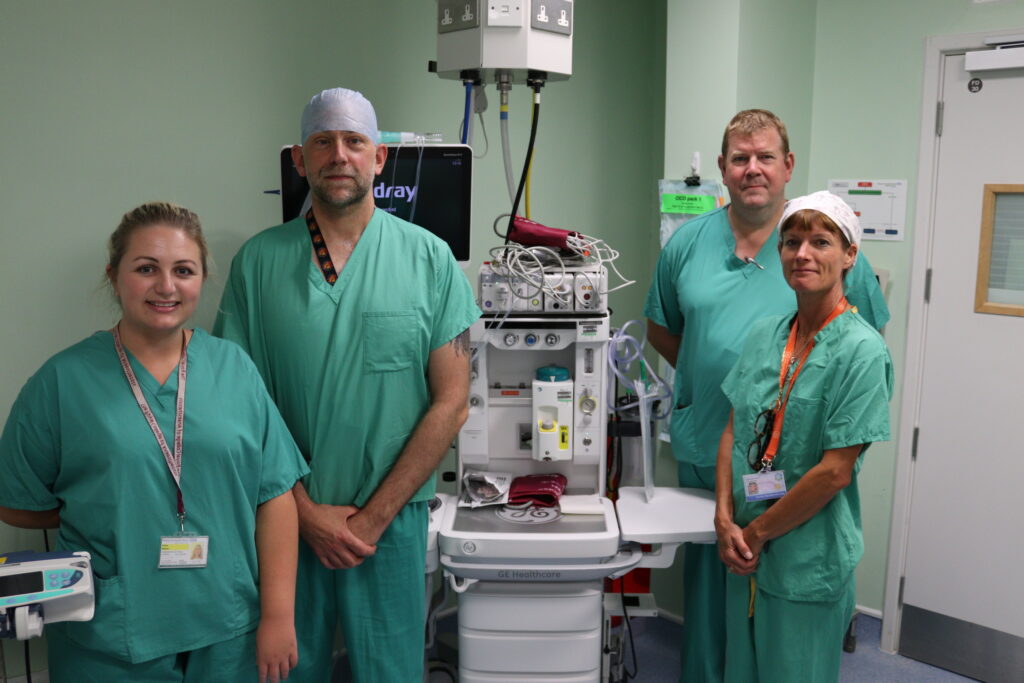 The Issue
Widely used in everyday surgeries, anaesthetic and medical gases are responsible for around 2% of all NHS emissions.
Desflurane, an anaesthetic gas routinely used in operating theatres, is one of the most common, but also one of the most harmful.
It is more than 2,500 times more potent as a greenhouse gas than carbon dioxide (CO2). An hour's anaesthetic using the gas will warm the atmosphere by the equivalent of between approximately 30 and 60kg of CO2. That's the equivalent of driving between 200 and 400 kilometres compared to driving between five to ten kilometres for sevoflurane, a lower carbon alternative.
The Solution
Today, driven by the clinical community, use of desflurane across the NHS is at its lowest levels, with many trusts phasing it out altogether. This has been achieved by anaesthetists using clinically appropriate and safe alternatives to desflurane with their patients, such as sevoflurane and total intravenous anaesthesia.
Modern anaesthetic machines and advances in equipment allow anaesthetists to safely use smaller amounts of anaesthetic gas or only intravenous medication, which are both equally clinically effective for patients. Alternatively, local anaesthetic can be used to numb the part of the body required – with a spinal injection, epidural or nerve block – which may be  clinically appropriate or preferable for some patients and procedures.
The Impact
Use of desflurane across the NHS has dropped dramatically in the last five years  – falling from more than 20% of all anaesthetic gases used in 2018/19, to approximately 3% in 2022/23 and saving an estimated 60,816 tonnes of carbon emissions per year, the same as taking 29,000 cars off the road.
In Leeds Teaching Hospitals NHS Trust (LTHT) anaesthetists have been using sevoflurane, which is a safe and lower carbon alternative to desflurane, cutting the organisation's carbon emissions drastically.
Dr Dan Gilpin, consultant anaesthetist at the trust, and chair of the sustainable theatres group, said: "The environmental impact of desflurane is approximately 15 times greater than sevoflurane. By working in collaboration with the sustainability team, we were able to reduce emissions from our use of anaesthetic volatile agents by over 50%, leading to a total reduction of trust carbon emissions of 3.9%."
In the South West, Torbay and South Devon NHS Foundation Trust has removed desflurane completely from Torbay Hospital. Dr Louise Webster, associate specialist anaesthesia and sustainability lead for theatres, said: "Following discussions with our anaesthetists, we removed desflurane from the anaesthetic machines we use at Torbay Hospital in February 2019. To support colleagues, we still had it available to use it on a patient-by-patient basis. With continued education and auditing of desflurane use, we finally agreed to remove Desflurane completely from Torbay Hospital in July 2022."
Staff at University Hospitals Bristol and Weston NHS Foundation Trust have also reduced desflurane use significantly, saving the equivalent to 30,000kg carbon emissions per month in just two years. Mat Molyneux, consultant anaesthetist, said: "The monthly reduction when converted to carbon dioxide is equivalent to 166 cars off the road or 105,000 miles driven by an average passenger vehicle."
"The use of lower carbon alternatives has no negative impact on patient care, experience or recovery and has a significant benefit for our environment. Since we made the change, we have saved 844 tonnes of CO2."
In the East of England, Norfolk and Norwich University Hospitals NHS Foundation Trust have also eliminated desflurane from its operating theatres, going from using desflurane for almost half of volatile-based anaesthetics in 2018 to no longer buying it.
"We presented the science behind the harm desflurane causes, a plan to stop using it and communication of these with anaesthetists and theatre staff, which enabled a smooth switch from desflurane to alternatives such as lower-carbon volatile agents or total intravenous anaesthesia (TIVA).
"Initially it was still available for emergency theatres and paediatrics. However, over time it wasn't requested by clinicians and the vaporisers have been gradually returned to the manufacturer," said Amy Greengrass, consultant paediatric anaesthetist at the organisation, who formed the sustainability committee in theatres.
What's next?
At least 40 NHS organisations are no longer using deflurane. Many more have pledged to reduce or eliminate desflurane completely as part of their green plans – the three-five year sustainability roadmaps now in place at every trust and ICB across the country.
Chief Sustainability Officer for the NHS, Dr. Nick Watts said:
"Many alternative surgical anaesthesia options exist which are both good for patients and good for the environment, so it makes sense that trusts across the country are choosing lower carbon alternatives to reduce the significant environmental impact of this anaesthetic gas. The action taken already shows the commitment of our clinical community to this important issue – and the green plans across the country will drive this even further in the future."