South East patients lose 5500kg on flagship NHS type 2 diabetes prevention programme
Over 1400 people in the South East have now completed the NHS Diabetes Prevention Programme and have achieved a combined weight loss of over 5500 kg.
Nationally more than 17,000 people have now completed the NHS Diabetes Prevention Programme and have achieved a combined weight loss of over 50,000 kg, equivalent to the weight of four double decker buses.
The NHS Long Term Plan announced that the programme, which sees people at risk of developing Type 2 diabetes given help to lose weight and lead healthier lifestyles, will double in size over the next few years to treat around 200,000 people a year.
From July this year online versions of the programme, which involve wearable technologies and apps to help those at risk of Type 2 Diabetes, will be provided for patients who find it difficult to attend sessions because of work or family commitments.
52,783 people in the South East have already been referred into the programme with 18,751 progressing to an initial assessment and 1469 going on to complete the programme.
The NHS Diabetes Prevention Programme is delivered in the South East by Ingeus, in conjunction with local NHS partners and renowned diabetes experts Leicester Diabetes Centre.
Diabetes and its complications cost over £10 billion every year to treat and one in six patients in hospital has diabetes. Around nine out of 10 people with diabetes have Type 2 which is closely linked to obesity and there is strong evidence that in many it is preventable.
A lack of exercise, poor diet and being overweight are all risk factors for developing the disease. The programme is designed to stop or delay onset through a range of personalised lifestyle interventions, including:
education on lifestyle choices
advice on how to reduce weight through healthier eating
bespoke physical activity programmes
Recent projections show that the growing number of people with diabetes could result in nearly 39,000 people living with diabetes suffering a heart attack in 2035 and over 50,000 people suffering a stroke.
Professor Jonathan Valabhji, National Clinical Director of Diabetes and Obesity said:
"Around two thirds of adults and one third of children are now overweight or obese, driving higher and higher rates of Type 2 diabetes that we are now focusing huge efforts to address, as outlined in the NHS Long Term Plan.
"I'm delighted that our work so far in this area has been producing really positive results. This weight loss and glucose reduction is promising – we hope to help many more of those who are at risk of Type 2 diabetes to not get it in the first place."
-ends- 
Case studies
Beryl Langley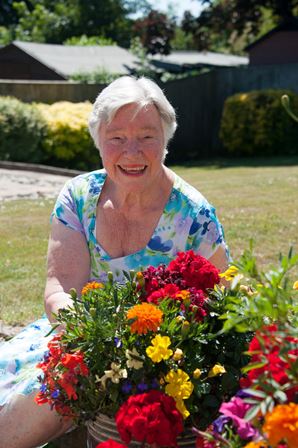 Brighton-based Beryl Langley took part in the programme and now the grandmother of four is out of the danger zone and in better health than ever.
Having lived through the Second World War, 84-year-old Beryl embraced a full and active life until a motor accident slowed her down. Over time, after putting on weight and not feeling her best she made an appointment with her GP. When her blood results showed she was at high risk of developing diabetes, she was invited to join her local Healthier You: NHS Diabetes Prevention Programme (NDPP) in Hove.
She said: "I was surprised. I'd never considered myself at risk. I'd been active and in good health most of my life. But I picked up the phone straightaway and joined the programme."
Beryl's daughters Chris and Sue accompanied her to provide support and take notes. The 10-month course looks at the causes of Type 2 diabetes, encouraging participants to achieve a healthy weight, be physically active and eat a balanced diet. All three women implemented what they learned. Beryl lost over a stone and her blood sugar levels returned to safe levels.
The former Marks & Spencer employee said:
"I learned about how choosing the right foods can make a difference. For instance, I didn't think I'd like brown bread and had avoided it, but now that I've made the swap, I don't touch white bread!
"I can't praise the programme highly enough. I eat as much as I did before but the right things now. I'm no longer considered at risk and I feel so much better."
Beryl certainly benefitted from the support of her family. She added: "My daughters alternated the weeks they attended and found it fascinating. Now one of them weighs and measures me around the waist once a week which is so helpful."
Beryl has increased the pace again and is back to her active social life, which includes speaking at Westdene Primary School about her childhood experiences during the war.
Kuldeep Raj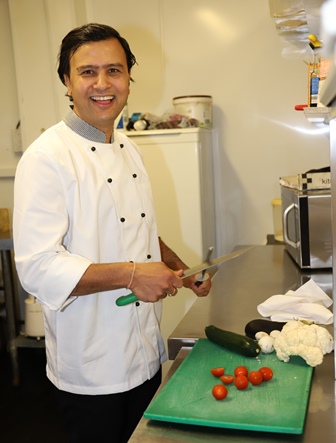 Chef Kuldeep Raj was one of the people who took part in the NHS diabetes prevention programme. Now the Bexhill-on-Sea resident is out of the danger zone and in better health than ever.
With a new-born daughter and two businesses to run, Kuldeep rarely stopped but when he started to feel unwell, he went to his GP to get a health check. A blood test revealed he had a high risk of getting Type 2 diabetes so he was referred to his local NHS Diabetes Prevention programme.  After just three months he had lost 13kg and his blood sugar levels had returned to safe levels.
The 39 year-old father said: "It was a shock to get the diagnosis but I wanted to make changes right away. Especially because my mum has diabetes and there's a predisposition in the family."
Kuldeep's concerns were well-founded as the risk of getting Type 2 diabetes increases two to six times if you have a parent with diabetes.
Kuldeep is so determined he closes his restaurant so he can attend the programme which meets in Bexhill-on-Sea and looks at the causes of Type 2 diabetes, encouraging participants to achieve a healthy weight, be physically active and eat a balanced diet.
He added: "As a chef I know how to make tasty meals but I can't say I was educated on the effects each food group has on the body. I learned how much we need of each category and the importance of portion sizes. The educator, Jo didn't suggest crash dieting; instead, she proposed we start slowly to let healthier eating become a normal part of life. It's more of a lifestyle change. "
Contact
Linda Gregory, Senior Communications and Engagement Manager, linda.gregory4@nhs.net
About NHS England
NHS England leads the National Health Service (NHS) in England – setting the priorities and direction, encouraging and informing the national debate to improve health and care.
The NHS in England deals with over 1 million patients every 24 hours and employs more than 1.5 million people, putting it in the top five of the world's largest workforces NHS England shares out more than £100 billion in funds and holds organisations to account for spending this money effectively for patients and efficiently for the tax payer. It strongly believes in health and high-quality care for all, now and for future generations.