What Black History Means to Me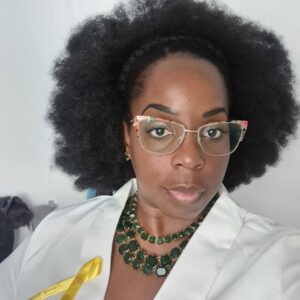 Adanna Williams, Deputy Director of Nursing PSD/Learning Disabilities and Autism – NHS England South East
We must first acknowledge that Black History should be celebrated every day, and every month. However, October's Black History month is an opportunity to purposefully and intentionally reflect and celebrate my ancestry and their achievements.
It is opportunity to further acknowledge our contribution to richness and diversity of life. It is also an opportunity to celebrate and recognise the great talent, work and achievements of our colleagues here in NHS England and in our wider community. It is a moment for us to drive positive change that moves us closer to equity. It is a chance for a stocktake as individuals to have a better understanding of how we as individuals are contributing to that positive change.
You can do this by leading by example. Demonstrating and living the values of equality, diversity and inclusion by role modelling. We can share knowledge and support others to thrive by mentoring or using corporate and social platforms to share our stories and experiences. Develop and promote a culture of safety and openness. One of the ways I am currently leading by example in NHS England is by having recently joined the Getting to Equity Programme which NHSE have set up to demonstrate their commitment to support the development of diverse talent.