Parents and carers urged to protect their two-and three-year olds against flu after high rates of under 5s being hospitalised
Parents and carers across the region are being urged to help protect their two-and three-year olds by getting them vaccinated.
The plea comes following recent data published by UKHSA which reveals that the hospitalisation rates for flu are highest in the under 5s.
Approximately 74,000 children aged two and three have already come forward for their flu nasal spray in the South East, including 3-year-old Dylan from Hampshire, which is great news. However, others are now being urged to come forward.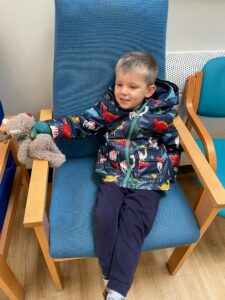 Mum Emma said: "I got a text message reminder to book Dylan in for his Flu nasal spray with a link to book the appointment after work. Dylan had the nasal spray and it was so quick and easy."
Flu is now circulating at higher levels than recent winter seasons and young children are particularly vulnerable and can become seriously unwell.
Due to coronavirus (COVID-19) restrictions in the past couple of years, most young children will not have ever encountered flu. This means they will not have built up any natural immunity to this virus, so it is particularly important for them to take up the flu vaccine this year.
Dr Nina Silson, GP from the south coast of the region, said: "I would like to encourage anybody who has two to three-year-old children to contact their GP to get them booked in for their flu nasal vaccination.
"It's really important not only to protect your little ones from catching the flu but also to stop them passing it to other members of your family, as we head towards the winter period particularly over Christmas.
She added: "It's a painless vaccine."
Flu is caused by the influenza virus. It can be a very unpleasant illness for children. It can also lead to serious problems, such as bronchitis and pneumonia.
Children can catch and spread flu easily. Vaccinating them also protects others who are vulnerable to flu, such as babies and older people.
Even if your child had a flu vaccination last year, the type of flu can vary each winter, so it is recommended that they have the flu vaccine each year to boost their immunity.
The nasal spray is safe and effective and offers the best protection for children aged two to seventeen years. In some instances, the flu vaccine injection can be offered if the nasal spray vaccine is not suitable. However, please speak to your child's nurse or doctor if they are aged two and three and your schools' immunisations team if your child is in primary school. Parents and carers of home-schooled children should contact their local community clinic.
For more information, visit Child flu vaccine – NHS (www.nhs.uk)