Pillar 1 NHS labs Covid-19 testing turnaround time data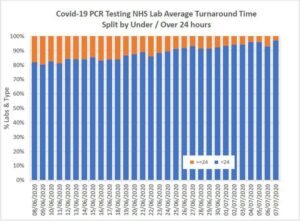 The current average Covid-19 testing turnaround time in the NHS pathology laboratories is less than 12 hours, enabling healthcare professionals to deliver results as quickly as possible to patients and provide appropriate care.
Over 97% of NHS labs have an average test turnaround time of under 24 hours.
Data notes:
Pillar 1 turnaround time is defined by laboratories as the time interval between the specimens received in the laboratory reception to the time of reports dispatched with verification.
Pillar 1 turnaround data is an average of turnaround time for RT-PCR tests completed at each testing organisation on day of data collection.