NHS 75th Birthday 2023 – North East & Yorkshire

On Wednesday 5 July 2023, the NHS will mark 75 years of service. Here in the North East & Yorkshire we'll be celebrating this milestone by showcasing the best of the NHS and encouraging as many of you as possible to join us in NHS 75 activities.
Treating over a million people a day in England, the NHS touches all of our lives. When it was founded in 1948, the NHS was the first universal health system to be available to all, free at the point of delivery. Today, nine in 10 people agree that healthcare should be free of charge, more than four in five agree that care should be available to everyone, and that the NHS makes them most proud to be British.
There are a wide range of ways for you to get involved with the NHS's 75th birthday celebrations, from attending events in your local area through to supporting the work of the NHS, for instance by giving blood or joining the NHS Organ Donor Register.
Your NHS Stories
The NHS employs staff from all over the world and offers 350 different careers. As well as this, volunteers of all ages and backgrounds make a huge and often unseen contribution to the NHS.
Here we introduce you to just a small number of the people from across our region who make the NHS what it is
---
Light Up Blue
To help mark the 75-year milestone, we're encouraging as many buildings, historic monuments and other high-profile sites across the country to 'light up' blue (the colour of the NHS) on the evening of the Wednesday 5th July.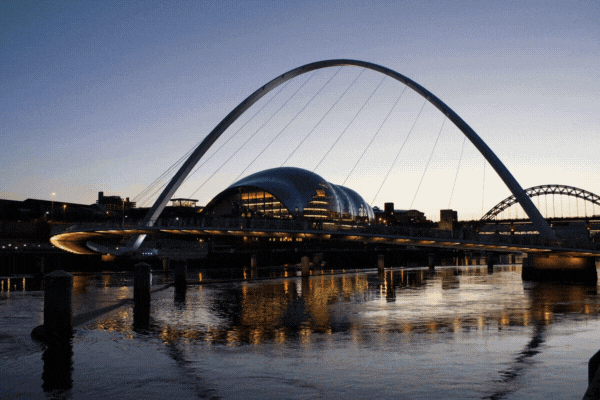 All confirmed sites will be added to a national NHS 75 webpage, and we will be encouraging the public to take photos and share them via social media. If your organisation would like to support Light Up Blue please let us know by emailing us here.  
The following landmarks have already confirmed their support:
Barnsley Town Hall and fountains
Beacon of Light, Sunderland
Bradford Town Hall and Mirror Pool
Bridgewater Place, Leeds
City Walls, York
The Deep, Hull
Doncaster Mansion House
Fulwell Windmill, Sunderland
Gateshead Millennium Bridge
Hylton Castle, Sunderland
James Cook University Hospital, Middlesbrough
Keel Square, Sunderland
The Killingworth Centre, Newcastle Upon Tyne
Leeds Teaching Hospitals
Leeds City Museum
Leeds Civic Hall
Leeds Town Hall
Newcastle Civic Centre
Northern Spire Bridge, Sunderland
Penistone Paramount in association with Penistone Town Council
Penshaw Monument, Sunderland
Quarry House, Leeds
Rotherham Town Hall
St Mary's Lighthouse, Whitley Bay
Scarborough Castle
Seaburn Lighthouse, Sunderland
Trinity Leeds
Tyne Bridge, Newcastle Upon Tyne
Sage Gateshead will display the NHS 75 logo and a message of support
University of York
Wakefield Town Hall
Wainhouse Tower, Halifax
York District Hospital
---
NHS 75 school talks programme – Speakers for Schools
To help celebrate the NHS's 75th birthday, more than 120 of the country's most senior NHS, health and care leaders are going back to school to talk to children and young people about why they should consider a career in the NHS.
In the NHS North East and Yorkshire region, the Speakers for Schools initiative has seen Amanda Pritchard, Chief Executive, NHS England, return to her old school, Durham Johnston, to speak to a new generation of students about how rewarding a health service career can be.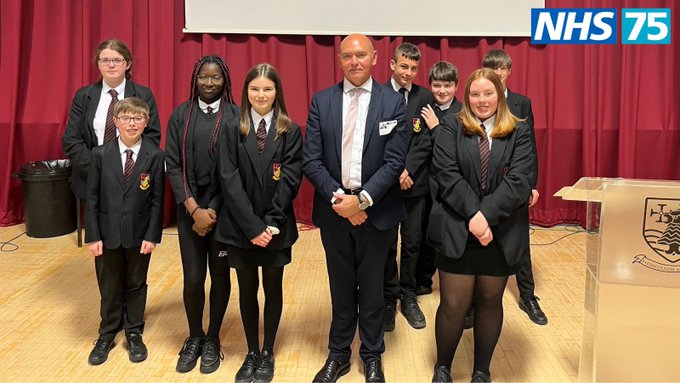 In Tyne and Wear, Sir Jim Mackey, Chief Executive of Northumbria Healthcare NHS and National Director for Elective Recovery at NHS England, visited Hebburn Comprehensive to speak to students about how rewarding a career in the NHS can be.
Vicki Chalker, Chief Scientific Officer, NHS Blood and Transplant (NHSBT), met students at the Dixons Allerton Academy in Bradford, West Yorkshire, about science, the NHS and NHSBT as part of Speakers for Schools. Dr Chalker said it was inspirational to meet students and teachers to help all achieve their best in healthcare and other professions.
---
Parkrun and 1,000 Miles
Looking for an exciting challenge? Why not join the NHS 1000-mile challenge and commit to walk, run, swim or cycle 1,000 miles during 2023? (That's an average of 2.74 miles per day)
Participants are asked to keep a record of their weekly miles and are invited to share their progress on Twitter on Sunday nights at 7.30pm using the hashtag #NHS1000miles.
As well as being a great way to mark the birthday, physical activity is good for your body and mind. Adults should aim to be active every day. Some is good – more is better still. Exercise can: improve your sleep; clear your mind; and boost your energy.
How can I join?
Work out how you want to complete your miles … and how many you'll need to do each day/week/month
Track your miles through this dedicated spreadsheet or join the Strava group
If you want to, why not set up a JustGiving page and get sponsored
Share your weekly mileage at the Twitter 'check-in' – Sundays, 7.30pm (use/search the hashtag #NHS1000miles)
You can get more information about the benefits of exercise – and tips for being more active – on the NHS website. A good way start could be 'NHS Couch to 5K'. You could also take part in your local parkrun – run, walk or volunteer!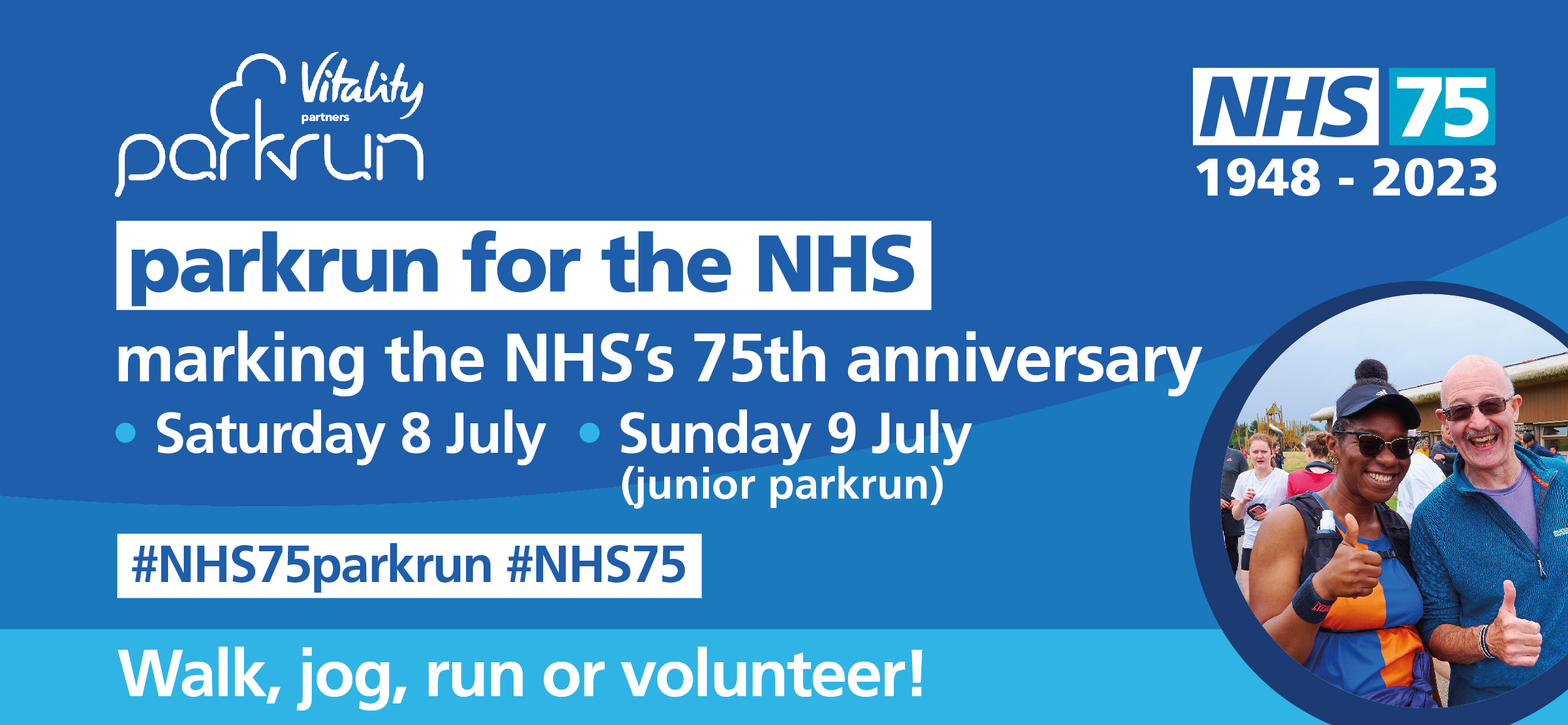 And speaking of parkrun, the NHS in England is delighted to have teamed up with parkrun UK and the NHS in Wales, Scotland and Northern Ireland to mark the NHS's 75th anniversary this July! NHS staff and volunteers, as well as local communities, will be encouraged to 'parkrun for the NHS' at parkrun events on Saturday 8 July or junior parkrun events on Sunday 9 July. Find out more here.
Good luck with your NHS1000 mile challenge!
---
Fujifilm Photography Competition
NHS England, in partnership with Fujifilm, have launched a national photography competition to mark 75 years of the NHS.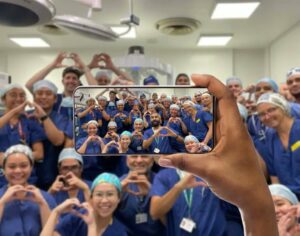 The competition is an opportunity for staff and volunteers to share – through photos – their unique stories across five categories. These categories include;
Our people – This category recognises the individuals and teams that make up who we are.
Our innovations – This category celebrates innovation across the NHS in all its forms – from cutting edge treatments to pioneering ways of delivering care.
Our environment – This category explores NHS grounds and buildings – indoors and out – and how individuals, teams and communities are working together to integrate sustainability into what we do.
Our care – This category will capture that core value – whether that is the care we provide our patients, or to each other as colleagues.
Our partners – This category is to celebrate the crucial role those partnerships play in helping us deliver the best possible care for patients.
The competition will close on 31 May.