Electronic Repeat Dispensing

Since its introduction nationally in 2019, GP practices and pharmacists in the North East and Yorkshire have embraced electronic repeat dispensing (eRD) and this NHS region has been the top performer for growth of the scheme for the last two years.
Many GP practices are using eRD to a high level (over 50% of all electronic prescriptions), saving many hours of GP and practice time. Patients who get their regular medication through eRD welcome the convenience of being able to collect their medicines from their local pharmacy without having to obtain a GP's signature every time. They have the reassurance of knowing their next prescription will be ready for collection at their pharmacy when they need it, and don't have to worry about running out of their prescription medicines.
Now, NHS regional teams want to build on this success by increasing further the number of patients being offered the convenience, reassurance and flexibility of electronic repeat dispensing.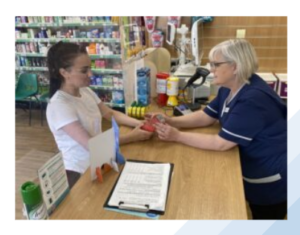 Advancing NHS services using digital technology is part of the Long Term Plan and eRD is hugely beneficial to general practice, pharmacy teams and their patients. It's also an integral part of the Electronic Prescription Service, offering many additional benefits over standard repeat prescribing.
We encourage everyone who stands to benefit from electronic repeat dispensing – GPs and their practice staff, pharmacy professionals and, most of all, patients themselves – to find out more about eRD by watching the video interviews, shown below, produced with the assistance of GP practices, pharmacy professionals and users of eRD in the North East and Yorkshire.