The NHS is currently offering the COVID-19 vaccine to people most at risk from coronavirus. In the South East there is lots of work underway to improve access to the vaccine. 
Case Studies
Brighton: COVID-19 vaccination bus pulling out all the stops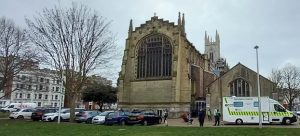 East Brighton in Sussex is one of the 10% most deprived areas in the UK and data suggests that there is lower uptake in East Brighton compared to most of the city.
The NHS worked with local stakeholders to better understand why there was a lower than average take up of vaccinations in this area and found a key barrier is travelling to the vaccination centres.
There were discussions about how to bring the vaccine to the heart of the community and encourage vaccine uptake. Prominent locations were agreed, and communication routes were discussed to promote a roving bus or ambulance model.
HERE is a Brighton based federation that has been commissioned to provide two roving services; a vaccination bus and a roving ambulance service.
This was a collaborative approach between there NHS, local authority, community and voluntary leaders and local foodbank managers.
Watch this video on visiting the vaccine ambulance. 
Slough: working with community champion
Slough suffers from a lower uptake of immunisations across a range of vaccines including Influenza, Measles, Mumps and Rubella (MMR) and Human Papillomavirus (HPV). Research suggests that vaccine myths remain prevalent in Slough. For some parts of the community, cultural reasons present a challenge to vaccination uptake.
In September 2020, the OneSlough partnership, led by Slough Borough Council, the Slough CVS (Council for Voluntary Services) and the East Berkshire CCG established a network of 'Community Champions'. Their role is to support the Covid response in communities that have been disproportionately hit by the virus. By the end of 2020, there were 600 community champions.
At the beginning of December 2020, the champions' role developed to become 'vaccine champions' to ensure as many residents as possible are vaccinated, whilst at the same time helping dispel any vaccine myths and disinformation.
Since then, the partnership has provided training and information sessions to the champions on how to talk about the vaccine and mitigate the impact of disinformation, produced tailored social media resources and created a bespoke local FAQ guide on the vaccine (which is given to everyone receiving a rapid Covid test in the borough).
The partnership has also trained some champions as volunteers at vaccination centres themselves to support logistics and community engagement on the ground. Virtual information supported by champions and delivered by public health and CCG experts, for example with the University of the Third Age cover vaccine hesitancy. Sessions like this are being offered to all local community groups.
Crawley 'vaccine bus' from the Alliance for Better Care
The Mobile Vaccination Service (MVS) is a new way of breaking down barriers to accessing the COVID-19 vaccine. It uses the flexibility of the Oxford University/AstraZeneca vaccine to bring the vaccine to parts of the community which might otherwise be harder to reach, including those who have been shielding or would struggle to get to a vaccination site.
Launched by the GP Federation Alliance for Better Care (ABC), the MVS uses a 'vaccine bus', staffed by the ABC Community Vaccination Team, providing a clean space with one way flow and easy disabled access. Vaccine doses are taken from a registered site on the day of use, and appointments for the mobile unit are by invitation only and are booked by the local GP practices.
Potential locations for the MVS are agreed with health and care leaders at a local level, in partnership with local authority Community Development teams, charities like Citizens Advice and other community and voluntary organisations. Locations which could host the MVS need to be accessible, Covid-secure, and have nearby amenities such as toilet and handwashing facilities.
MVS can be especially helpful for individuals who are at greater risk from COVID-19, such as those who are clinically extremely vulnerable and advised to shield when transmission rates are high. Where the MVS is being used to provide vaccinations to people who are shielding, a text message explains that they will soon be able to choose where to go for their vaccination, giving them options they wouldn't otherwise have had.
Oxford videos to reach hesitant groups
In order to better reach hesitant groups, Imam Monawar Hussain, a chaplain at Oxford University Hospitals (OUH) trust hosted a webinar along with Dr Kiren Collison and Dr Amar Latif from Oxfordshire CCG and Sam Foster, Chief Nurse from OUH.
The webinar included presentations about the vaccine and a Q&A afterwards with local people.
The webinar was very well received and helped to provide information and reassurance on the vaccination. The webinar is available online for those who weren't able to join the event and the trust has been promoting it afterwards for others to view.
The video with Monawar is available on the Oxfordshire CCG web page and on Youtube and was promoted on Twitter.
In order to reach as wide a range of people as possible including those people speaking languages other than English the trust has made a number of videos available on their website including a message from Oxford faith leaders and clips from Terry Roberts, the trust's Chief People Officer
There is also a YouTube playlist featuring clips from members of our staff and patients speaking about their experience of the vaccine – and why getting vaccinated is so important.
As well as videos in Arabic, Bengali, Farsi, Hindi, Polish, Punjabi, Slovakian, Tamil, Tetum and Urdu which can all be viewed on the OUH website.