South West Surgery in Children Network
The South West Surgery in Children Operational Delivery Network (SW SIC ODN) is one of 10 Operational Delivery Networks for Surgery in Children that are being established across England to provide response and support to deliver the outcomes of the national Paediatric Review.
The diagram below outlines the proposed national footprint for Operational Delivery Networks across England; these networks are currently in different stages of development however all are working together collaboratively to facilitate a national network for Surgery in Children and meet regularly to discuss priorities and shared ways of working.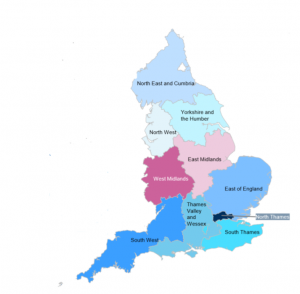 The objectives for the Surgery in Children Operational Delivery Networks were outlined as part of the review and are summarised as:
Improve quality of care

Concentrate work appropriately
Improve equitable access to services
Ensure appropriate services available

Reduce Variation in care

Network driven standards
Network driven clinical pathways

Increase safe staffing

Consolidate skills and expertise
Sustainable work force

Deliver best value for the SW and the NHS

Sustainable Model of service
Reduce unnecessary surgery in specialist centre
Optimise existing resources

Reduce gaps and duplication in provision
Please also see the South West Surgery in Children website for more information.