Support where it's needed most – Jenny Hicken
Jenny Hicken, a Network Delivery Facilitator for NHS England's Northern Clinical Networks and Senate on Tyneside, looks at why the NHS needs the voluntary sector:

Our team has recently received some training on the benefits of Patient and Public Involvement, and the role of the voluntary sector in supporting the work of the NHS.
With it came a timely reminder of the NHS England employee volunteering scheme, an opportunity we have all been encouraged to take up. So why should we be working with the third sector?
I want to use an example I am familiar with to illustrate how important this external support is.
As part of the Maternity & Child Health SCN team at the Northern Clinical Networks, and as a mum who experienced a complicated pregnancy, I appreciate more than some the absolute value of support for expectant parents, at all stages of their journey. There are few occasions when this is more vital than in tragic cases of pregnancy loss.
NHS IQ published a report at the end of February entitled 'A review of support available for loss in early and late pregnancy'. This urgently needed piece of work scoped some of the services available to women and families experiencing the loss of a baby in both the NHS and in the charitable sector – and the services are sadly in demand.
The statistics, for those who are not aware, are fairly shocking: 17 babies are stillborn or die shortly after birth in the UK every day, and 20% of all pregnancies end in miscarriage. Stillbirth is ten times more common in the UK than cot death. However, the societal taboo of talking about miscarriage, stillbirth or neonatal death openly means that many families suffer in silence, particularly if the loss was early enough that the pregnancy was not common knowledge among friends or family.
The devastation each woman feels at the loss of her baby should never be underestimated, regardless of gestation.
There is a clear need for excellent bereavement services and clinical care at the time of the loss along with ongoing support going forwards, although as the report explains, none of this is consistently provided by the NHS across the board.
There are some excellent best practice examples of bereavement care given in the NHS IQ report, but one area that NHS services sometimes struggle to adequately provide for is aftercare and ongoing support. This is where the voluntary organisations play a vital role. An awareness as NHS professionals of what third sector support is available could make all the difference to the care that is offered to those who need it.
Charities like SANDS and the Miscarriage Association offer peer support unlike anything provided by the NHS, giving women a 'safe space' to share their experiences with others who understand their feelings.
The growing number of online forums provided by charities, such as via their Facebook pages, shows the role of social media in enabling families to find support as they want it, whenever they need it.
To give you an idea of the scale of demand, the Miscarriage Association website has around 50,000 hits every month, and they deal with around 6,000 phone calls and emails every year. The trusted and reliable advice provided by voluntary organisations responds to parents' needs in a different way than those the statutory services can provide, on both an emotional and practical level.
Of course the ideal scenario is that the loss never occurs in the first place, and this is where charities are playing an increasingly large part – that of raising awareness of healthy pregnancies. There are several local and national charities working to reduce incidence of baby loss by educating expectant mums on how to keep themselves healthy with diet, exercise, and other recommendations, along with the 'warning signs' to watch out for that something might not be right with their baby.
This approach is aligned with the general principles of NHS antenatal care, but through the charities information is made available to women in a much more accessible way, through websites and social media, and in a friendlier, more approachable fashion that women respond to.
Tommy's, one charity which I have previously fundraised for, ran a campaign last year to encourage pregnant women to be more active, and also operate a pregnancy support helpline staffed by midwives to offer advice when women feel they need it. They also fund vital research into the causes of miscarriage, stillbirth and premature birth, which has obvious benefits and implications both for pregnancy outcomes and NHS resources.
I have recently taken up my first official volunteering position with a charity called MAMA Academy, which aims to educate pregnant women about health in pregnancy in an effort to reduce baby loss. The unique benefit of MAMA Academy though is that they also appreciate the importance of the role of the midwife in providing excellent maternity care, and work together with the Royal College of Midwives (RCM) to provide consistent information to professionals to raise overall standards of care. It's a real multidisciplinary approach to improving pregnancy outcomes.
This kind of collaborative working is the key to success when it comes to the NHS and the voluntary sector, and not just in maternity care. We don't just need to involve them; we need to see them as integral members of our wider health and social care team. Much as we would like to, the NHS is not currently in a position to offer the comprehensive services some people need – but there are organisations out there which can fill in the missing pieces. We just have to know where they are and how they can help.
And if you're feeling the urge to make a difference yourself, there are plenty of charities or groups who would appreciate your support. Trust me, it is well worth it.
Follow me on Twitter @GreatNorthMum
For more information on MAMA Academy, find me at @MAMAAcademy or visit www.mamaacademy.org.uk
---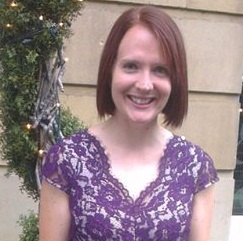 Jenny Hicken is a Network Delivery Facilitator for the Northern Clinical Networks and Senate. Her personal areas of interest are maternity and child health, living with long term conditions, and the role of social media in health.
She joined the NHS in 2009, working for the North East Primary Care Services Agency as a Patient Services Officer. Prior to this she was a Retail Manager looking for a change in career!
Jenny has a degree in Linguistics from Newcastle University but always wanted to work in healthcare. She undertook self-study with the Open University taking courses in human biology, infectious diseases, and biological psychology.
She lives in Newcastle upon Tyne with her husband, who is a teacher, their three year old son Joseph, and two cats.