"Black Box" thinker and sports star joins Expo 2016 line-up
Champion sportsman, Times columnist and author of bestseller Black Box Thinking, Matthew Syed, will be a key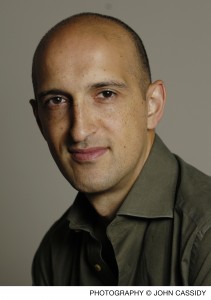 speaker at Health and Care Innovation Expo 2016.
Matthew is the latest person to join a star-studded line-up of national and international leaders at Expo 2016, which returns to Manchester Central on 7-8 September.
His second book, Black Box Thinking: The Surprising Truth about Success, is a UK bestseller and has been translated into multiple languages. In it, Matthew explores the techniques of learning from failure in the world's most innovative organisations, from the airline industry to Google, and looks at how their lessons can be applied across every field – from sport to education, from business to health.
Secretary of State for Health Jeremy Hunt said in the Independent that the book has inspired him to develop new measures aimed at further building a culture of learning from mistakes in our healthcare system, with additional reassurance and support for doctors to speak up.
Black Box Thinking was described by inventor and entrepreneur James Dyson as a "brilliant book" that shows "how true invention lies in the understanding and overcoming of these failures, which we must learn to embrace."
Before becoming a writer, Matthew was the England table tennis number one for almost a decade, three-times Commonwealth Champion, and twice competed for Great Britain in the Olympic Games – in Barcelona in 1992 and Sydney in 2000.
The lessons he learned in the science of high performance in sport led to his publication of acclaimed book Bounce: The Myth of Talent and the Power of Practice, in April 2010.
Confirming his keynote appearance at Expo 2016, Matthew said: "Health and care, and particularly the innovation happening within this sector, is something I'm really passionate about. I'm looking forward to speaking to as many people as possible at Expo 2016, and hearing about how people within health and care react and respond to failure."
Jane Dwelly, Head of Health and Care Innovation Expo at NHS England, said: "Matthew will bring a unique perspective to Expo 2016, and I'm really looking forward to hearing him address our delegates. Some of the best innovative ideas come from looking outwards at other industries and other expertise, and Matthew really lives and breathes this way of thinking."
Matthew is a regular contributor to radio and television. His film for the BBC, China and Table Tennis, won bronze medal at the Olympic Golden Rings ceremony in Lausanne. He was also one of the co-founders of Greenhouse, a charity which "empowers youngsters through sport" and which supports more than 10,000 young people on 31 full-time school programmes.
He joins an array of inspirational speakers lined up for Expo 2016 – the most significant health and social care event of the year.
They will include NHS England Chief Executive Simon Stevens, the Director of New Care Models Samantha Jones, the Chief Nursing Officer for England, Jane Cummings, and NHS England's National Medical Director Professor Sir Bruce Keogh, as well as National Cancer Director Cally Palmer.
Other inspirational speakers will include Life Sciences Minister George Freeman,  Professor Bob Wachter, who is leading the national review on 'Making IT work', and National Data Guardian Fiona Caldicott.
The overarching theme for the event will be the Five Year Forward View and, as well as the two main stages, there will be four feature zones focussing on the key areas of digital health, the new care models at the vanguard of change and the NHS Right Care programme.
Delegates can now book their place at Expo 2016, with early-bird applicants able to secure a special offer and guaranteed to be part of another stunning event – the third of its kind at the iconic Manchester Central venue.
NHS England's chairman Professor Sir Malcolm Grant has described Expo 2016 as an opportunity to "take the pulse of the health and social care system", adding: "The sense of excitement and urgency at last year's event means that I am already looking forward to our return to Manchester Central for Expo 2016. By then, we will be 18 months into implementing the ground breaking NHS Five Year Forward View, and we will be able to celebrate and share the NHS's significant achievements, while collectively looking forward to the work still to do."
With many more exciting and inspirational speakers to be announced over the next few months, the number of delegates this year is expected to top 5,500 – including leaders, innovators and key people from within the NHS and care services.