Use the high street health expert – your pharmacist
The Self Care Forum is calling on people to make more use of their local pharmacist this winter to help ease the burden on frontline NHS services.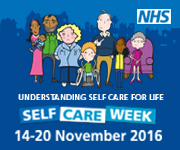 As it launched Self Care Week today, the Forum highlights the huge number of consultations with GPs and visits to A&E by patients with common ailments – health issues that could be dealt with by their local pharmacist.
Annually, there are around 52 million GP appointments and 3.7million A&E visits for conditions which people could have been treated at home or with pharmacists' advice.
Dr Selwyn Hodge, Self Care Forum Co-chair, explained how many people don't know pharmacists are expert healthcare professionals who can give advice and recommend treatments for minor health conditions such as coughs, colds, sore throats, childhood fever.
"From time to time, all of us suffer from minor ailments, or fairly trivial short term conditions such as colds and strained joints that right themselves fairly quickly," said Dr Hodge. "However, rather than rushing to see a GP or, even worse, going straight to A&E, wouldn't it be better if everyone learned a bit more about how to safely look after minor illnesses themselves, and where to obtain some appropriate help if needed – such as visiting a pharmacy for advice, perhaps, on over the counter medicines.
"Too often we misuse the services of the NHS by not even trying to look after ourselves as much as we could; not just when we are ill, but also by failing to keep ourselves healthy in the first place  – such as taking plenty of exercise and eating sensibly."
Prof Rob Darracott – Pharmacy Voice Chief Executive and a Self Care Forum Board member, added: "Pharmacists clearly have a frontline role to play in supporting people with information and empowering them to take responsibility for their own health."
Andrew Mawhinney, LloydsPharmacy Pharmacist, said: "People often visit their doctor about common ailments because they're unsure how to treat symptoms, how long these will last and because they want reassurance that it's not serious.
"Instead of waiting for an appointment at your surgery, visit your local pharmacy first. Pharmacists are very knowledgeable about many common health conditions, including colds and flu, and can offer expert guidance on which remedies will provide the most effective symptom relief."
The call for the public to make more use of their pharmacist mirrors one of the key messages in this year's NHS Stay Well This Winter campaign launched a week ago.
As she spoke out in support of Self Care Week, Professor Jane Cummings, the Chief Nursing Officer for England, said: "I regularly see the challenges and pressures that staff face across the NHS. Nurses, GPs, Consultants and many other NHS professionals work hard throughout the year and I know it's particularly hard over winter. That's why it's important to raise awareness about the importance of self care and provide information and advice so people can manage their own health needs where possible.
"If you start to feel unwell, at the first signs of symptoms of winter respiratory illness, even if it's just a cough or cold, get advice from your pharmacist, before it gets more serious. Self care and managing health conditions effectively is a good thing, but you must seek medical advice if you are unsure."
Professor Ian Banks, a Self Care Forum Trustee and former A&E doctor, added: "Most people are entirely capable of looking after themselves most of the time, self-treating when it's safe and knowing where and when to seek help when they need it. There will always be others however, who might need a bit more support to become empowered and confident in making the right health decision.
"Self care is not no care. Far from it, for example you will find the local pharmacist an excellent source of health advice and information. There are also reputable health information websites such as NHS Choices or the Self Care Forum website."
This year's theme for Self Care Week, which runs until November 20, is "Understanding Self Care for Life" and aims to increase people's levels of health literacy.
Empowering people's ability to self care has many benefits for their short term and long term health and this is important since people are living longer.
Dr Pete Smith, a GP and Self Care Forum Co-chair, drove the Forum's messages home, saying: "We are at the tipping point of a cultural change towards self care as a way of life and work, but for change to happen we must work together.
"Our NHS is under pressure, which means it is important to choose the right service for your health needs.  There is often something you can do for yourself or your loved ones first, especially when it comes to minor ailments such as cold, flu, sore throats and diarrhoea, or injuries such as sprains or strains.
"The NHS constitution says 'please recognise you can make a significant contribution to your own and your family's good health and wellbeing and take responsibility for it.'
"Most people are very capable of looking after themselves most of the time, self-treating when it's safe and knowing where and when to seek help when they need it.  However, there are still 3.7 million visits to A&E every year for self-treatable conditions which puts the NHS under avoidable strain.
"Before you visit A&E, remember what it's there for. It provides vital care for you if you have life threatening emergencies, such as loss of consciousness, suspected heart attacks, breathing difficulties, or severe bleeding that cannot be stopped and for significant injuries. By using the alternatives you can save yourself a journey and free up time for busy staff to spend with the more severely unwell.
"If for instance you have a cold, flu or sore throat and you are not sure how to self care or when to ask for another opinion, consider looking up your symptoms on NHS Choices, asking your pharmacist for advice or calling 111. They will be able to advise you how to manage your illness and whether a trip to your GP or A&E is necessary. This will not be necessary for most self-treatable illnesses."