Kate Granger Awards recognise inspirational healthcare staff and volunteers spanning 70 years of the NHS
A nurse who started training in 1948 is among the inspirational people and teams receiving special recognition for their dedicated services to the NHS spanning seven decades.
This year's Kate Granger Compassionate Care Awards, announced at the 2018 Health and Innovation Expo at Manchester Central, were given to individuals, teams and organisations who demonstrate outstanding care for their patients.
Now in their fifth year, the awards were set up by Kate Granger, the terminally ill doctor who worked tirelessly to raise awareness around compassion in the NHS, through her #hellomynameis social media campaign.
The award winners, together with the special 70th birthday dedications, were handed out by Chris Pointon, the husband of the late Dr Kate Granger; the chairman of NHS England, Professor Sir Malcolm Grant; Simon Stevens, NHS England's Chief Executive and Professor Jane Cummings, Chief Nursing Officer for England.
Winners were selected from more than 100 entrants across four award categories by a judging panel that included Chris Pointon and Professor Cummings.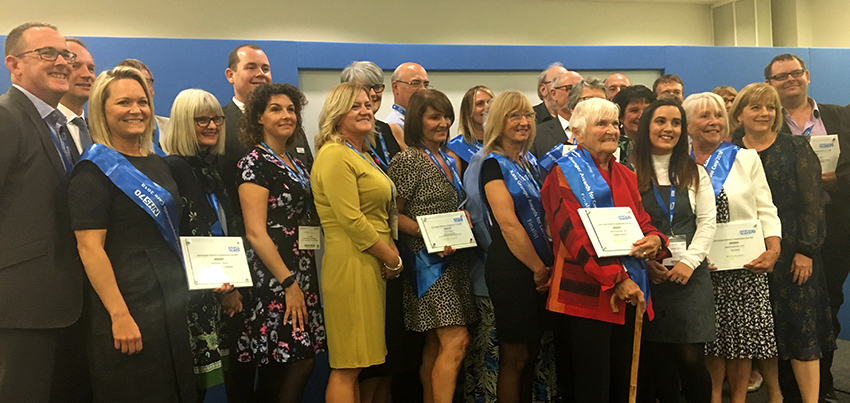 Professor Cummings said: "I'm extremely proud of all the finalists here today who have contributed so much to the delivery of NHS services. I'm delighted to have been able to recognise their commitment to compassionate care at these awards in memory of the late Dr Kate Granger, whose campaign is in embedded in the hearts and minds of healthcare professionals across the world. Each and every nomination this year outlined how individuals, teams and organisations are delivering expert care, skill and compassion in everything they do."
Chris Pointon, who continues to promote the #hellomynameis campaign in Kate's memory said: "Judging the awards was difficult as nominations were of such a high calibre and all the nominees are doing amazing work. The winners are exceptional and highlight the dedication and commitment of everyday people who work in the NHS."
This year's Individual Award went to Catherine Baldock for her work in implementing ReSPECT – a new, patient centred approach to making recommendations about emergency care and treatment at University Hospitals Coventry and Warwickshire NHS Trust.  She is now clinical lead for the implementation of this approach across the NHS.
The team award went to End of Life Companion Volunteers of Bournemouth and Christchurch for their exceptional support of patients who are in their last days of life. The Companions support patients, offering comfort and reassurance, especially when they have no visitors, in the belief that no one should die alone.
The organisation award went to NHS RightCare for its High Intensity User programme which has cut A&Es visits and 999 calls from "frequent callers" by supporting vulnerable and lonely people. The programme, began in Blackpool based on an idea from an advanced paramedic, now runs in 37 Clinical Commissioning Groups.
The 70th birthday special awards went to individuals who have made a significant contribution to the delivery of compassionate care within one or more of the past seven decades.
Elizabeth Smithson started her training at Leeds General Infirmary in 1948 and, although now retired, she continues to demonstrate the very best of nursing by volunteering with organisations such as Health Watch where she advocates for both residents and patients. Elizabeth was presented with the NHS70 award 1948 – 1959.
NHS70 award 1960 – 1969 went to Elsie Walker who spent all her life working as a nurse and was awarded an MBE for services to nursing, having been nominated by her patients. Elsie was instrumental in setting up the West Middlesex Branch of the NHS Retirement Fellowship and was its Chair until just six years ago.
Irene Budd, received the NHS70 award 1970 – 1979 for her work in caring for patients with gynaecological cancers at The Christie NHS Foundation Trust. Irene recently turned 80 and still works as a bank nurse at the Christie.
The NHS70 award 1980-89 was presented to Tracy Tyrrell, Director of Nursing and Allied Health Professionals at CityCare, which is a social enterprise that delivers NHS funded care. She leads the organisation's quality agenda and is passionate about providing good quality patient care.
The late Joyce Cook was posthumously awarded the NHS70 Award 1990-99 for her work as a midwife. Joyce worked in some of the most deprived areas of Bradford, and took it upon herself to learn Urdu in order to communicate better with her Asian ladies. She demonstrated the 6Cs in abundance, often in difficult circumstances.
NHS70 award 2000-2009 went to Professor Roger Barker, Consultant Neurologist at Cambridge University Hospitals NHS Foundation Trust. Professor Barker has developed a truly patient centred service using innovative solutions to improve the experience of patient's with Huntington's Disease. He introduced telemedicine for patients who can no longer travel to clinic and initiated home visits to specialist nursing homes.
Finally, the Lancashire Women and Newborn Centre at Burnley General Hospital, in response to numerous requests for the option of de-medicalised caesareans, the Centre developed a pioneering and fresh thinking approach, and the Trust became the first to formally establish a 'skin-to-skin' caesarean standard. The centre was awarded the NHS70 award 2010-2018.
Before her death at the age of 34, Kate expressed her hope that the awards would continue and grow into an even bigger event, saying: "Being a patient has taught me a huge amount about being a doctor. Prioritising compassionate care in its rightful place alongside patient safety, under the umbrella of quality is perhaps one of the most important things I have learned."
Other members of this year's judging panel were Kate Granger's close friend and colleague Natalie Silvey; an anaesthetic registrar, Paul Vaughan; Respiratory Consultant, Elin Roddy; former Chief Executive of West Hertfordshire Hospitals NHS Trust, Samantha Jones; and Director of Nursing Leadership at NHS Improvement, Dr Jacqueline McKenna MBE.
More about the award winners
Individual Award: Catherine Baldock – Nominated by: Federico Moscogiuri
Catherine was the first person in the UK to embrace and implement ReSPECT – a new, patient centred approach to making recommendations about emergency care and treatment.  Catherine led the implementation of ReSPECT at University Hospitals Coventry and Warwickshire NHS Trust in December 2016.  She is now clinical lead for the implementation of this approach across the NHS.
ReSPECT is an extremely innovative approach to delivering coordinated, person-centred care in emergency situations, where a person is unable to make or express choices. ReSPECT was designed to address the many problems around the use of do not attempt cardiopulmonary resuscitation (DNACPR) decisions and places the patient at the centre of decision making. The ReSPECT process is fully applicable and scalable across all care settings in all of the four national NHS systems, and is fully compatible with Advance Care Plans. It provides a single national standard for recording patient preferences and removes unwarranted variation.
Team Award:  End of Life Companion volunteers – Nominated by Jacky Taylor
The End of Life Companion volunteer service of Bournemouth and Christchurch is for patients who are in their last days of life and is non-judgemental, inclusive and compassionate, acts with integrity, sensitivity and understanding.
The companions are there to support the patients especially if they have no visitors, as they believe that no one should die alone. Companions can also be there to support families and loved ones at this most difficult time, offering a listening ear, access to information such as free parking, somewhere to shower etc. They also support the busy ward staff, alerting them if the patient begins to show signs of discomfort, promoting the timely administration of medication to maximise comfort.
The Volunteer Services Coordinator ensures that the companion is contacted usually be telephone after each visit for debrief to see how the visit went and ensure that the companion is supported.
Organisation Award:  NHS RightCare's High Intensity User Programme – Nominated by Rhian Monteith
NHS RightCare's High Intensity User (HIU) programme, now running in 37 Clinical Commissioning Groups (CCGs), is helping some of the most vulnerable and lonely people in society to flourish, whilst saving NHS resources through sustainable reductions in A&E attendances, 999 calls, and non-elective admissions.
The HIU programme began in Blackpool, based on an idea from an advanced paramedic who saw first-hand, the effect that individuals utilising urgent health care more than expected was having on those people and the services responding to them.
From this seed, a national programme developed and is spreading at pace and scale. By offering an inclusive, empathetic and listening approach, hospitals following the principles of the HIU programme see a reduction in A&E attendances and non-elective admissions of between 50 and 85 percent. Feedback shows this approach has a positive impact on people's lives, including a reduction in self- harm, improved self-esteem and increased self-worth.