Top pharmacist praises hero of Whaley Bridge dam crisis
A pharmacist who came to the aid of hundreds of people during the Whaley Bridge crisis, in which a dam threatened to burst and wash away the village under tons of flood water, is being recognised for his heroism.
Deputy Chief Pharmaceutical Officer, Dr Bruce Warner, visited Raj Modi to praise him for his remarkable response after the Derbyshire village was evacuated in August due to fears the nearby Toddbrook dam might be breached.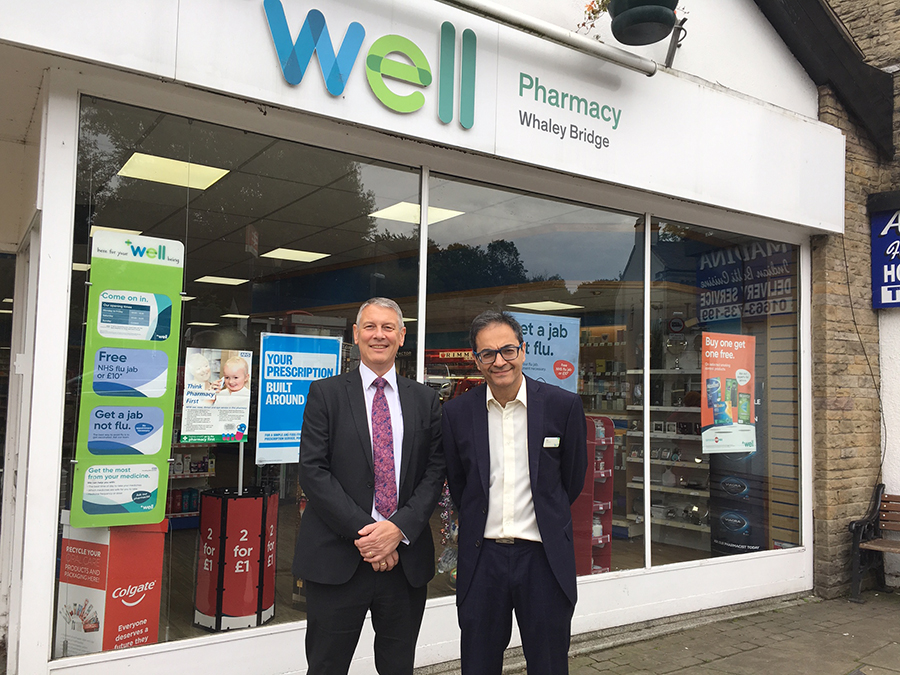 Days of being battered by thunderstorms and floods saw a section of the dam wall crumble as the 300 million gallon reservoir beside Whaley Bridge reached dangerously high levels. Half a month's rain fell in one day alone and there were fears the dam, situated just yards from hundreds of homes, could collapse and wash away the village and everything else in its path.
Around 1,500 of the village's 6,455 residents were evacuated by the emergency services and many not allowed to return to days, having to stay in a local hotel or seek refuge with family and friends.
Emergency teams worked around the clock to prevent a disaster as the risk of collapse remained at a critical level. A Chinook helicopter crew from RAF Odiham flew for 72 hours over several days dropping more than 600 tonnes of ballast onto the dam to prevent it bursting under the weight of the flood water.
Fire crews and environment emergency teams worked tirelessly to pump 4.2 million litres of water per hour out of the reservoir. Meanwhile, police cordons prevented people from returning to their homes for their own safety.
Many people had fled with only a change of clothing, leaving behind their cars, treasured possessions and pets. In the rush to get out, many left without their regular medical supplies.
Raj works for the Well Pharmacy, which fell in to the evacuation zone, and recognising the need for people to have their regular supplies of vital drugs he quickly set about hand-delivering medication needed by his most vulnerable patients.
Local patients hailed Raj as a hero thanks to his prompt action, which included setting up collection points for patients to pick up what they needed and sharing his personal phone number with local radio stations and community social media pages so people could get in touch with him.
Professor Stephen Powis, England's medical director, said: "Raj embodies the best of the NHS, which is there for people come hell or, in this case, high water. Many people fled the flooding leaving behind most of their possessions including essential medical supplies, and Raj's actions to go above and beyond have helped his residents stay safe and well.
"Pharmacists are a crucial part of community health services and as part of the NHS Long Term Plan these health professionals are working more closely with GPs, offering new services – including spotting killer conditions like heart failure – and ensuring our patients have even more access to convenient, expert care."
Dr Warner, part of the team leading NHS pharmacy services nationally, visited Raj and his team at his pharmacy to pay tribute to them for their efforts during the emergency.
Dr Warner said: "I'm pleased to be able to thank Raj personally for his inspiring work, and he and his whole team deserve to be recognised, not just for their acts during the dam crisis but for their essential work day in day out.
"It's clear Raj really cares about his patients and the local community, putting his own safety to one side to care for those who needed it most at a very difficult time, and representing the values of the NHS, providing excellent care, clinical advice and support with medicines all year round."
Raj's store team were also keen to lend a helping hand during the evacuation, setting up in a neighbouring Well Pharmacy to deal with urgent patient queries, as well as helping him to ensure everyone continued to get their medicines including local care homes.
Raj said: "I'm very humbled by the reaction I've had since this all happened. I simply wanted to try my best to help and support everyone that I could, while bringing some calm to the situation by making sure people were not worried about their medication.
"My pharmacy team were brilliant – they all got in touch with me offering their help and support. We have a special bond with the people in our community, so it felt like the obvious thing to do for all of us and we're pleased our actions could help so many.
"I'd like to say thank you to the NHS for the lovely messages and the support they offered during the crisis. I'm very proud to be a healthcare professional and believe our health service is one of the best in the world, full of people who would've done the exact same thing in my position."