New NHS treatments helping extend survival for babies with rare muscle-wasting disease
Nearly three in four babies born with a rare muscle-wasting disease are now surviving for two years or more thanks to advances in NHS treatment, new data shows.
Around 70 children are born with spinal muscular atrophy (SMA) each year in the UK, a rare genetic condition that causes muscle weakness, progressive loss of movement and paralysis.
Historical studies of the disease in the US have estimated that before the availability of treatments, fewer than one in ten (8%) children born with SMA type 1 (SMA1) – the most common form of the condition – survived to the age of 20 months without permanent ventilatory support.
But thanks to advances in treatment on the NHS, now nearly three quarters (73%) of children with SMA1 in the UK are older than two years, according to new data from the national SMA Research and Clinical Hub (SMA REACH UK) database.
The SMA REACH UK study also suggests a significant reduction in deaths from SMA1 in this country, with just 11 deaths in total recorded across the UK between March 2018-March 2023 – compared to around 25 deaths each year in England between 2008-2017, according to ONS data.
This follows the roll-out of three "transformative" new SMA medicines on the NHS from 2019, with the health service striking landmark commercial deals to secure access for SMA patients across the country.
NHS chief executive, Amanda Pritchard, said: "It's fantastic to see that more and more children diagnosed with this debilitating condition are living longer and with greater independence, thanks to cutting-edge treatments now available on the NHS.
"Before 2019 there were no effective drugs for this condition – and, while there is so much still to do, we're delighted that access to these new and transformative treatments through the NHS is already making a real difference for families, enabling more babies to stand up and take steps.
"This is yet another example of the NHS leading the way in securing access to innovative treatments for those with rare genetic conditions while delivering value for the taxpayer – and with the expertise of our phenomenal paediatricians and wider specialists, we hope that outcomes for children born with SMA will continue to improve in the coming years."
The data extracted from the SMA REACH UK database at the end of 2022, showed that 118 out of 161 patients with SMA1 in November 2022 were over the age of two years old and living without permanent ventilatory support, with many more children in the database who were under two years old at the time, now expected to have survived beyond that milestone.
The data predominantly demonstrates the initial impact of injectable drug nusinersen (Spinraza®) – the first treatment to target the underlying cause of SMA – which was made available on the NHS in England from Summer 2019.
With gene therapy Zolgensma® and oral treatment risdiplam secured in 2021, the NHS has ensured access to treatment for patients with types 1, 2 and 3 SMA, and it is hoped all three treatments will continue to deliver improved outcomes as more data is collected.
A study recently published in Muscle & Nerve journal has also shown promising results of the impact of nusinersen on improving children's quality of life, with all children in the (NURTURE) study who started treatment before their symptoms still being alive five years later, and more than 90% walking independently.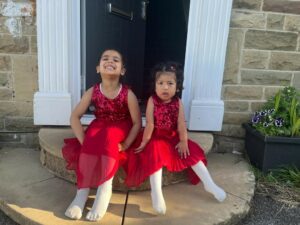 Hidaya Iqbal, three years old, from West Yorkshire, was diagnosed with SMA type 1 as an infant when her mum noticed that she appeared to have delayed development. Hidaya was taken to her GP and referred immediately to Leeds General Infirmary, where she was diagnosed in a matter of weeks after investigation revealed family history of the condition.
Initially, Hidaya was treated with the medication nusinersen, which is given every 16 weeks, but after it was approved in 2021, she was eligible to receive the one-off gene therapy, Zolgensma.
"The new treatments for SMA have been absolutely life-changing," said Hidaya's father Nasser. "We have seen the effects of the condition in our family, and it really is the difference between life and death. My daughter wouldn't be here without the treatments, it really is as simple as that."
Hidaya's condition means she isn't able to stand unassisted or walk, she also has breathing difficulties and is fed through a feeding tube which is connected directly into her stomach.
"We've just reached a milestone where Hidaya can stand up, and if we hold her arm, she can take a step forwards," added her father. "She sits up when she goes to school and can work her way through the iPad herself at home, doing things like watching videos on YouTube Kids. Our short-term goal is that she'll hopefully be able to start going to school full time.
"All the care we've received is incredible. When we've needed to take Hidaya to the local A&E, where they might not have seen the condition before, they'll ring the specialist team at Leeds to talk through the issues and you can really see the joint working in action."
Professor James Palmer, National Medical Director of Specialised Services at NHS England, said: "A trio of new treatments are improving outcomes for NHS patients by slowing the progression of SMA, enabling a longer and better quality of life with family and friends. It's brilliant to see the life-changing impact these drugs are already having and there is every reason to believe we will see an even greater impact over time, especially when babies receive treatment at the earliest opportunity."
Giles Lomax, CEO, Spinal Muscular Atrophy UK, said: "We know that the three treatments available through NHS have transformative effects across the SMA community from newly diagnosed children through to adults living with SMA. However, early access to these treatments is imperative to prevent irreversible muscle degeneration and that's why SMA UK are advocating for SMA to be included on the newborn screening programme. One baby every five days is born with SMA and the sooner they receive treatment the sooner their condition will stabilise.
"It's vitally important that the NHS continue to prioritise these lifesaving services to ensure that everyone with SMA can live the best independent life as possible."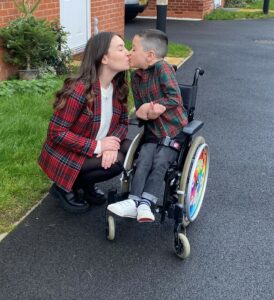 Elijah Marsden, from Leicestershire, was four years old when he was diagnosed with SMA type 2. Born with spina bifida as well as SMA, his diagnosis was delayed due to his symptoms initially being attributed to the spina bifida. With his condition identified later in his development, Elijah was put on a treatment regimen to receive the medication nusinersen, which he requires every 16 weeks at Sheffield Children's Hospital.
"Since Elijah has been on the treatment, he's definitely stronger and doing a lot more in his physiotherapy sessions," said his mother, Emily. "He's a lot more awake and alert and has less muscle fatigue, so he can do things like wearing his leg splints for longer and write for longer as well. He also sleeps a lot better closer to when he has the treatment.
"The team at Sheffield have been absolutely brilliant," she added. "Everyone from the orthopaedics staff through to the people in admissions and recovery have been amazing."
Elijah is a keen swimmer and a Beaver Scout and goes to a mainstream school. Emily has hopes for Elijah's future as well as helping other people find out about a potential SMA diagnosis sooner.
"Our hope is that the nusinersen will keep working and that one day Elijah will be able to live independently," she said. "It would also be good to see SMA included in the heel prick test for infants. We had no idea that the genes were in the family, but if we had found out about SMA earlier, Elijah could have received a one-off treatment."