The AAC supports the spread of 26 late stage innovations. So far this year (April to December 2019), we have provided access to these products for over 400,000 patients.
We're building a healthy pipeline of innovations that meets the needs of the NHS
In the first nine months of 2019/20, we worked with over 350 innovators through our Clinical Entrepreneurs, Small Business Research Initiative (SBRI), Test Beds and National Innovation Accelerator (NIA) programmes.
For example, over 150 healthcare professionals were appointed to the Clinical Entrepreneurs programme this year, joining over 350 other professionals that have been trained and supported so far on this programme
Over 500 products have been developed or tested in association with these four programmes.
We're supporting the uptake and spread of innovation
In the first nine months of 2019/20, over 400,000 patients had access to 26 proven innovations through AAC programmes, ranging from digital tools that reduce medication errors to a device that improves detection rates in patients undergoing bowel cancer tests. Over 200,000 patients and almost 200 NHS organisations had access to the Rapid Uptake Products alone. For example:
Over 12,000 pregnant women had access to a blood test for pre-eclampsia that can diagnose the condition earlier in pregnancy and significantly reduce life-threatening complications. This compares to just over 2,000 women in the whole of the previous year.
22 new trusts accessed heart scans that reduce the need for invasive procedures, with more than double the number of patients likely to be reached this year compared to last year.
21 new trusts accessed a minimally invasive alternative to surgical procedures that relieve painful urinary tract symptoms in men, with more patients reached than in the whole of the previous year.
An additional 452 multiple sclerosis patients accessed a tablet that helps decrease relapses, can be taken at home and has low monitoring requirements. More than double the number of patients are likely to be reached this year compared to last year.
Rapid Uptake Products graph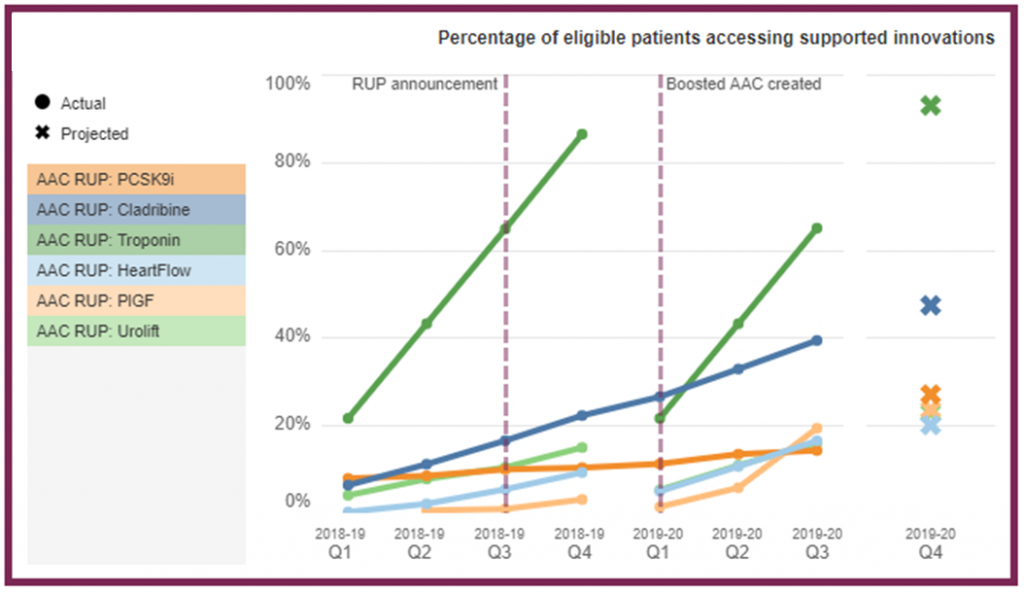 The above graph shows the increase in eligible patients accessing the Rapid Uptake Products in the last year. The dotted reference lines mark the announcement of the Rapid Uptake Products, and the creation of the boosted AAC, hosted in NHS England and NHS Improvement. The line for Urolift is directly under the line for HeartFlow in 2019/20.
Case study: Preventing cerebral palsy in preterm babies
The PReCePT programme is reducing the incidence of cerebral palsy by offering magnesium sulphate to all eligible women in England during preterm labour (less than 30 weeks). Magnesium sulphate costs from just £1 per dose.
PReCePT stands for the Prevention of Cerebral Palsy in PreTerm Labour. The project was originally developed by the West of England AHSN in collaboration with University Hospitals Bristol NHS Foundation Trust, and involved both patients and staff.
In 2016, PReCePT was successfully rolled out to all five acute trusts in the West of England, using a Quality Improvement (QI) approach to support uptake.
The initiative has so far prevented around seven cases of cerebral palsy in the West of England, representing potential lifetime healthcare savings in the region of £5 million and substantially more when including loss of productivity and social care costs over a lifetime.
For every 37 mothers who receive magnesium sulphate, we can prevent one case of cerebral palsy. As a result of PReCePT, fewer babies will develop cerebral palsy and the quality of life of preterm babies and their families will be improved.
Case study: HeartFlow
The HeartFlow Analysis tool helps to diagnose chest pain patients who may be at risk from obstructive coronary disease without the need for invasive tests. One of the hospitals to introduce the diagnostic tool was the Royal United Hospitals in Bath after a successful bid to NHS England for an Innovation and Technology Payment, which helps to fund innovative medical devices, diagnostics and digital products. It is being used on a trial basis until April 2020.
Consultant Radiologist, Dr Ben Hudson, said: 'We've had nearly 300 patients use the new technology. It means that we are able to diagnose potential obstructive coronary disease earlier, and those patients that do not have a narrowing of their arteries no longer have to go through any unnecessary and invasive tests.'