Living with Dementia – Dr Jennifer Bute
To mark Dementia Awareness Week, a former GP talks about how the illness dramatically changed her life: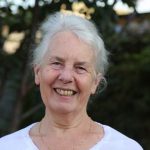 I was once the executive partner of a large General Practice in Southampton.
I loved my work and my patients and was involved in teaching. But I retired early as I knew something was wrong.
Apart from 'memory problems', I could not find my way to the branch surgery or even my way home. I did not recognise close colleagues and was also experiencing olfactory hallucinations.
As I looked and sounded normal, it took five years to get a diagnosis of Alzheimer's. Having been a well-respected doctor, consultants were 'friends' who could not consider such a diagnosis.
This is a real problem for many of us who are younger, as society seems to assume people with dementia are old and frail, whereas an early diagnosis enables us to do something to slow progression.
Read the full blog on our mental health pages.