Learning to live with diabetes
To mark the start of Diabetes Week we hear from a concerned London mum and her daughter about how they are coming to terms with the 12-year-old's condition:
It's been just over 10 months since my daughter's Type 1 diabetes diagnosis – that's 300-plus days of carb counting, finger pricking and testing.
A diabetes awareness campaign run over the summer had made me reflect on symptoms my daughter was experiencing.
Previously, I'd thought of them in isolation, she was always thirsty and constantly needed the loo. That made sense, after all it was the summer and it was warmer than usual. Then she lost a lot of weight, it seemed to have happened overnight and this worried me a little. How could I not have noticed? Again, at the time, I thought she was just becoming more aware of what she was eating.
Still something in me, took her to be tested. We were told to expect the results of the blood tests within a week, but our GP rang within hours to let me know that the results were back and that my daughter had Type 1 diabetes. We were told to go to hospital and Georgia was admitted that evening with sugar levels so high the glucometer couldn't read them.
And that's when our new life began.
The most amazing, patient, kind and caring nurses, doctors, dieticians, therapists and psychologists helped us get to grips with managing my daughter's condition. They even made us laugh when it wasn't really a laughing matter. There was so much to learn and I remember how overwhelmed we felt, but I know Georgia and I were so grateful that all the staff made it a positive experience.
Our local children's diabetes team took over her care soon after discharge.  We got to know two lovely nurses who we knew we can trust and rely on. They arranged a meeting with Georgia's school, so we could go through her care plan; ensure teachers were aware and trained in case something happened, and discuss practical things like where she could test and inject.
One of Georgia's biggest worries was what the other pupils would think if they found out. Together we worked out a way for it to be kept secret until she was ready to tell people – although in the end these plans didn't go 100% right!
More recently the diabetes nurses briefed the school in advance of a hockey tour abroad. This was a huge relief to me, easing my anxiety about Georgia being in a country known for its high carb food – namely pizza and pasta.
Since then, we've had several consultant appointments, numerous blood tests, and many phone calls with the nurses to discuss insulin ratios and other issues as things change. It's a great comfort for a parent, knowing that an expert team with Georgia's best interests at heart is always on hand if we need them.
Georgia is managing her sugar levels quite well, but the smallest change can throw the best sugar management out of the window. So, we're all still learning.
I am really grateful to the NHS for raising awareness of such a life changing disease, be it Type 1 or Type 2 diabetes. I would never have known my little girl was so ill had it not been for the Healthier You: NHS Diabetes Prevention Programme.
I know her diabetes is different to the one it's working hard to prevent from impacting on patient's lives.  But what I also know is that the right sign posting and the right information led to my child getting the best start to managing her diabetes, long term. Thank you!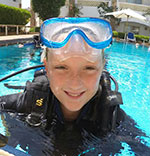 Hello, my name is Georgia and I was diagnosed with Type 1 diabetes on the 11 August last year.  It was in the middle of my summer holidays when ice creams and treats which cool you down flow freely.
I had been for a blood test earlier that day and was so scared of the needle. Yet now, having to deal with them on a daily basis, I can barely feel them!
I cried when mum told me we had to go to the hospital. Everything happened really quickly when we got there. I had to stay overnight.  I hardly got any sleep as I was being tested every 3 hours.
The next morning I met lots of doctors and nurses and was given lessons on how to carb count, test my blood sugar levels and inject insulin. It was hard, tiring and terrifying but I knew I had to get on top of it.
The first day I managed to gather up the courage to prick my finger, I have to say it took a while.  But the nurses and doctors were really nice and made the whole process easier to handle. They explained everything and made me understand it wasn't my fault I had diabetes.
I feel it's important to explain that there are two types of diabetes, Type 1 and Type 2.  Type 1 can develop at any age but usually occurs before the age of 40, and is the most common type of diabetes in children. Unlike Type 2, it cannot be prevented or controlled through diet in the same way as Type 2 because, with Type 1, the body is unable to produce any insulin.
On the second day my mum gave me an insulin injection with my breakfast. She's had to learn how to do everything too, including counting the carbs using a book and a scale which we had been given.
Even though it terrified me I had to take control and get used to the injections and after lunch I gave myself the injection.  When I finished I couldn't believe how fine it felt, I was expecting it to be much worse.  I felt as though it wasn't going to be such a problem after all.
I was relieved to be discharged from hospital after two days but there was a lot to remember and I was always testing my blood sugar levels.
One of my biggest worries was what other people were going to think and say. Everyone thinks that you get diabetes because you're fat.  So, going to school with diabetes was scary.
For the first few days I tried to keep it a secret but I told a friend and slowly I told more people. Despite my fears, they were very understanding.
At lunch, I go to the medical room to test my blood sugar and inject insulin. I was surprised to find that there were others in my year with diabetes too. PE is a pain as I have to test before and after exercise as your levels can drop.
It's annoying to have diabetes and yes, I miss stuffing my face with cake and not having to worry about counting the carbs. But it's now a part of me.  I have to take control, watch what I eat and test my blood regularly.
This is my health and I just have to make sure I look after it. Maybe one day there will be a cure? But until then, this is my life and I'm not going to let it stop me enjoying it. I want others who find themselves in my position to know that it's not that bad and that we all just have to get on with these things.
I'm grateful my Type 1 was diagnosed early. Raising awareness of health issues like this is important. It was important for me and my family.
Diabetes Week, which is organised by Diabetes U.K, kicked off on 11 June and runs until June 17. This year the theme is: Know Diabetes. Fight Diabetes.  
For more information email: diabetesweek@diabetes.org.uk