NHS England's 1st Annual General Meeting: the public's voice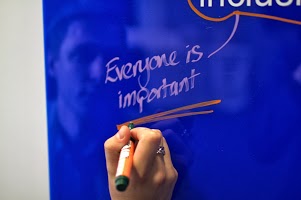 On a grey September afternoon 250 (ish) people came together from all over the country – people who use NHS services, people who provide services, Carers, volunteers, Drs, Nurses, young people, policy people, people who commission services, people from Healthwatch, voluntary organisations and NHS England – bringing colour, vibrancy and energy to five really important conversations.
NHS England's first Annual General Meeting was a significant opportunity for us to create spaces for people to discuss issues together that are fundamentally important to all of us. We had two aims for the day: –
To engage in open and informed debate about our aspirations for the future
To create space for participation that informs our work, offering different views and ideas
We focussed our discussions on five current and important issues, which you can find out more about here and see some of their conversations on the twitter feeds: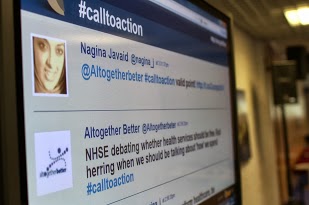 Each workshop had a live twitter chat which meant hundreds more people were able to contribute their ideas, experiences and opinions to the debates. We had more than 4000 tweets using the workshop hashtags. We will post more from the twittersphere later.
Each workshop agreed some of the key highlights from the rich discussions. There were some really clear messages from all of the workshops about culture, values, equality and being human, that everyone connected with.
We had some young volunteers who came along and told us that they really valued the way we facilitated the workshops. We wanted everyone to be able to contribute in ways they felt comfortable with.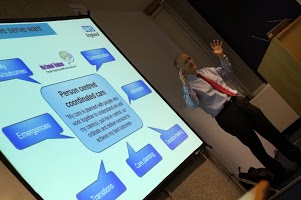 We had tablecloths to write and draw on, scribes to write down ideas and graphic recorders to draw our conversations. But we do need to work harder to make sure that we really create environments that value everyone's contributions. A young volunteer from Brook has kindly shared their experience of the day with some great suggestions that we will learn from when we design future participation events (of which we know there will be many!) so we make sure everyone can participate, contribute and be valued.
The Board members of NHS England joined the workshops to listen and understand the ideas everyone had.
The formal business of the AGM took place with three short speeches from Malcolm, David and Paul. I then had the amazing privilege of inviting Kevan, Paula, Joe, Fiona, Malcolm, Alyson and Tony to share their feedback, ideas and experiences from the day's discussions. You can watch and listen to their powerful and passionate voices here. I think that some of the most important messages we heard were about unlocking the power of people; using the skills and assets we all bring; reaching and supporting everyone; making sure we all work together to create and organise services that are responsive and there when we need them; and walking in others shoes to truly understand peoples unique lives and experiences.
At the end of the evening, Kevin, one of the passionate people who travelled all the way from Lancashire to share his time with us, handed me this wonderful poem he had crafted during the day. I think it beautifully sums up our experiences together. Thank you to everyone who gave their time, energy and creativity – we hope to see you at our NHS Expo in 2014.
We all came to London with no real pretence
Just willing to participate with good will and common sense
Of course there are many with differing views
The best we should re-tell not reject or lose
In this new NHS there is much that needs to be done
But we must not let the politicians rush us and force us on the run
Any changes in policy will take time to benefit us all
So let's work together in unity so our ideas and deliberations don't fall
As we leave this venue having worked hard and done our best
Let's all return to our organisations passing the messages of intent to all the rest
Kevin Larkin, London, 2013
AGM photographs
AGM graphic artboards
AGM videos
Part one

Part two

Part three