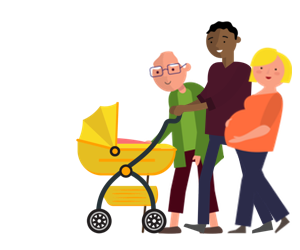 Region: London
Population: 2.2 million
Find out more about North East London integrated care systems (ICS) including details of its population size, constituent organisations and priorities.
Priorities
Promoting the health and independence of local people, in particular good mental wellbeing, and the prevention of ill health and loss of independence, while tackling inequalities.
Improving services by providing more care outside of hospital, better integrated in primary, mental, social and community care, and improving priority services such as maternity, mental health, cancer, urgent and emergency care, with strong hospital and specialist services.
Developing the right staff with the right technology in the right place – focusing on skills and career development, recruitment and retention, as well as housing for key workers; better digital and online services, and provision of health work places and better buildings.
Building partnerships; encouraging productivity and value for money, and being better organised, bringing providers and commissioners together in new ways of working.
Constituent organisations
The following organisations are part of North East London. For individual contact details for these organisations, please see the NHS website.
Barking and Dagenham CCG
Barking and Dagenham Council
Barking, Havering And Redbridge University Hospitals NHS Trust
Barts Health NHS Trust
City and Hackney CCG
City of London Corporation
East London NHS Foundation Trust
Hackney Council
Havering CCG
Havering Council
Homerton University Hospital NHS Foundation Trust
Newham CCG
Newham Council
North East London NHS Foundation Trust
Redbridge CCG
Redbridge Council
Tower Hamlets CCG
Tower Hamlets Council
Waltham Forest CCG
Waltham Forest Council