Building capability for improvement
Alongside practical implementation support, we are working to leave a legacy of increased capacity and capability in practices and federations to lead service improvement. A clear picture is emerging of the kind of capabilities which practices and at-scale collaborations such as federations will need in order to innovate, improve and transform services. These are presented in the capability framework below.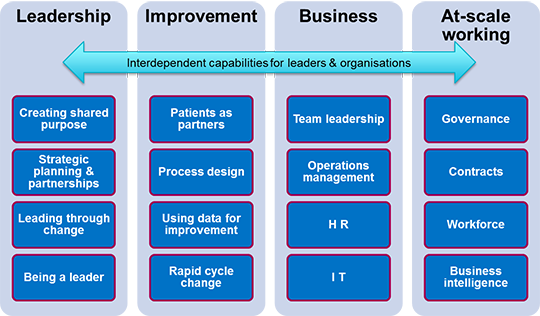 General Practice Improvement Leader programme
Having clinicians and managers with quality improvement skills is key to successful change. Free places are provided on the General Practice Improvement Leader programme from NHS England's Sustainable Improvement team. This is a successful personal development programme with small cohorts of up to 35 people to build confidence and skills for leading service redesign in your practice or federation.
The programme incorporates interactive training workshops, personal reading and reflection, and action learning as participants lead a change project in their own workplace. Participants gain new perspectives, skills and confidence in using improvement science in general practice, and leading colleagues and teams through change. The approach has been successful with general practice clinicians and managers of widely varying experience, from those new in post to very experienced staff.
Hear previous participants talking about their experience of the training programme.
Who is it for?
The programme is for those working in general practice including, GPs, practice managers, nurses, project managers, reception managers and facilitators, working directly with general practice to support the GP Forward View. Delegates will need to bring an improvement project to work actively on during the programme.  Please see the guidance below before applying.
What are the benefits?
Personal development: how to deliver change and engage people in the process.
Building local capability: applying new skills and knowledge to lead successful improvements and change in individual practice and in developments that involve wider partnerships in the local area.
Accelerating change locally by working on a chosen improvement project focused around one of the 10 High Impact Actions to release time in general practice.
Learning alongside others from general practice and becoming part of a wider primary care improvers network.
What does it look like?
A modular programme of up to six days in total, completed over three to four months. Each module builds personal learning and the ability to help others use quality improvement techniques.
Module 1: Fundamentals of change and improvement (2 days). The key components needed for successful change and practical tools and techniques for making improvements, including developing a meaningful aim, measurement for improvement, identifying opportunities for improvement, and generating, prioritising and testing ideas. Delegates will have the opportunity to apply learning to their own project.
Module 2: Human dimensions of change (2 days). Motivating and mobilising others, working together to make changes. Part of this module will include understanding the values and motivations of ourselves and others, as well as helping building effective relationships; how to communicate well in conflict.
Module 3: Facilitation and presentation skills (2 days). Approaches to use when working with groups including building confidence in presenting, group dynamics and common facilitation scenarios, where interventions are needed to achieve a successful outcome from group work. Creative thinking techniques will help delegates move projects on when they have become 'stuck' and understand the different types of feedback and tips that can be used to help provide effective feedback.
No prior knowledge of managing change or quality improvement is needed to join the programme. Certificates will be issued to participants on completion of the programme.
Module and webinar dates for 2018/19
To apply for a place on the programme you will need to click on the hyperlink below titled 'Applications open', for the location of your choice.  This will take you to an online application to complete.
Interest in the programme is extremely high.  We would encourage you to apply for a place as early as possible.
PLEASE NOTE: these are the final cohorts of the current programme.
Participants will be expected to:
attend all six days – please ensure you can commit to this before applying
fully participate in all learning activities on the programme
work actively on a chosen small, focused improvement project, sharing learning and providing regular updates
complete all pre-work and other exercises within the timescales given.
We will provide:
delivery/facilitation of the programme modules
opportunity to apply learning to your chosen project and share with cohort colleagues
programme materials, including slides (available online)
access to an online forum for your cohort
lunch and light refreshments during each day
overnight accommodation (bed and breakfast only) if required for the middle night of each module, booked centrally by our team.
Guidance on completing your application
Please apply individually for your own place on the programme. When making your application we will require the following information from you:
your chosen improvement project idea to work on – please see guidance below
what you hope to gain from joining the programme
what previous experience you have of quality improvement.
Your improvement project
To get the most out of the programme, your project idea should be relatively small and focused, ideally an improvement idea you are about to begin working on. It could be a problem or issue that you are wanting to address. Some examples that delegates have worked on include document management to free up clinical time, repeat prescribing/dispensing processes, group consultations, care navigation and repeat medication reviews /follow ups. If your project idea is a larger ambition (e.g. primary care at scale), it is strongly recommended that you choose an aspect of this to focus on for your application.
Please note we can only consider applications that have been fully completed.
What does it cost?
Overnight accommodation (bed and breakfast only) is available if required for the middle night at no cost to delegates.
Travel costs are not funded. Delegates will need to arrange and cover the cost of their own travel as needed.
Find out more
Join one of our regular webinars. These are an opportunity to hear more about how a Time for Care programme can benefit your practices and federation, about how the General Practice Improvement Leader Programme could benefit clinicians and managers in your area.
National Primary Care Improvement Community
We have established a national community of practice for clinicians and managers involved in facilitating innovation, improvement and transformation in general practice and wider primary care. This spreads good ideas more quickly, help to accelerate local change and support change leaders in sustaining progress and their own resilience.
Change leaders often feel isolated, particularly in primary care, where there are relatively few people skilled in improvement science and change. Having received initial training in improvement science, many do not have other opportunities to maintain or grow their skills. Recruiting and mentoring others is hard work.
The Primary Care Improvement Community seeks to address these challenges by providing a community of practice supported by regular networking and access to the latest developments in improvement and change. Facilitated by NHS England's Sustainable Improvement team, it creates rich peer-to-peer networks. A programme of events provides multiple opportunities for members to share and learn together, and this is augmented by online networking and webinars.
Most members have already accessed support from the General Practice Development Programme and are able to use the community as a way to continue learning and make local improvement.
Membership of community is free. To join the community please contact the Sustainable Improvement team.