Building capability for improvement
Alongside practical implementation support, we are working to leave a legacy of increased capacity and capability in practices and federations to lead service improvement. A clear picture is emerging of the kind of capabilities which practices and at-scale collaborations such as federations will need in order to innovate, improve and transform services. These are presented in the capability framework below.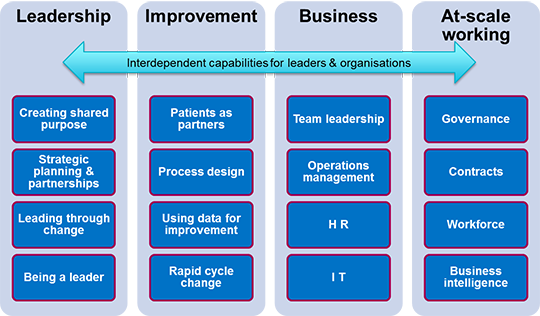 General Practice Improvement Leader programme
Having clinicians and mangers with quality improvement skills is key to successful change. Free places will be provided on the General Practice Improvement Leader training programme from NHS England's sustainable improvement team. This is a successful 9 month personal development programme to build confidence and skills for leading service redesign in your practice or federation.
The programme incorporates interactive training workshops, personal reading and reflection, and action learning as participants lead a change project in their own workplace. Participants gain new perspectives, skills and confidence in using improvement science in general practice, and leading colleagues and teams through change. The approach has been successful with general practice clinicians and managers of hugely varying experience (from GP registrars and newly appointed managers to very experienced staff).
Hear previous participants talking about their experience of the training programme.
We intend to create up to 300 places per year on this training, for the next three years.
Who is it for?
The programme is for those working in general practice, including GPs, practice managers and nurses; also project managers and facilitators actively working with general practice to support the GP Forward View. Delegates will need to bring a live project to work actively on during the programme.
What are the benefits?
Personal development: how to deliver change and engage people in the process.
Building local capability: apply new skills and knowledge to support own practice and wider local area in achieving its goals
Potential to accelerate change locally by working on a chosen improvement project focused around one of the 10 High Impact Actions for general practice
Learning alongside others from general practice and become part of a wider improvers network
What does it look like?
A modular programme of up to six days in total, completed at the delegate's own pace, over a minimum of four months. Each module builds personal learning and the ability to help others use quality improvement techniques.
Fundamentals of change and improvement (2 day session) The elements of successful change. Practical tools and techniques for making improvements.
Human Dimensions of change (2 days) How to engage others and work with them to make changes locally. Building effective relationships.
Facilitation skills (2 days) Approaches to use when working with groups. Creative tools and techniques to help keep projects moving.
The Fundamentals module has to be completed first. Optional support webinars are offered in between each module. No prior knowledge of managing change or quality improvement is needed. All delegates will have access to an ongoing network of resources and support within a national improvement community.
Module and webinar dates for April 2017
There has been a great deal of interest in the programme with four full cohorts joining since September 2016. Feedback from participants has been positive, telling us they value the "real life real time" learning they are able to take back to their practices to help local improvements happen.
Dates for cohorts starting in January are now fully booked. The next opportunity to apply for a place is April 2017 – please see below for module and webinar dates.
Module
Topic
Bristol
Leeds
 
Preparatory WebEx (optional)
Thurs 13 Apr 2017,
13:00-14:00
Tues  25 Apr 2017, 13:00-14:00
1
Fundamentals of change and improvement (2 days)
Wed 26 Apr and
Thurs 27 Apr 2017
Tues 9 and Wed 10 May 2017
 
Support WebEx (optional)
Wed 17 May 2017,
08:30-09:30
Tues 30 May 2017, 13:00-14.00
2
Human Dimensions of Change
Wed 7 June 2017
Thurs 8 June 2017
Tues 13 June 2017
Wed 14 June 2017
 
Support WebEx (optional)
Thurs 22 June 2017,
13:00-14:00
Wed 28 June 2017, 08:30-09:30
3
Facilitation skills
Wed 12 July 2017
Thurs 13 July 2017
Tues 18 July 2017
Wed 19 July 2017
Places are free for any clinician or manager involved in facilitating service redesign in general practice.
What does it cost?
Overnight accommodation with group meal is provided free for the middle night if attending on consecutive days.
Travel costs are not funded. Delegates will need to arrange their own travel as needed.
Find out more
Join one of our regular webinars. These are an opportunity to hear more about how a Time for Care programme can benefit your practices and federation, about how the General Practice Improvement Leader Programme could benefit clinicians and managers in your area.
Apply to join the programme
London and Birmingham cohorts starting in January 2017 are now fully booked, the next opportunity to apply for a place is April 2017.
Once you have applied you will receive an automated email stating your application has been received – please note this does not guarantee you a place. If you are successful, a separate email will be sent to you confirming your place on the programme in early 2017.
'What is Quality Improvement?' half-day learning session
This three hour session provides an overview of managing change and quality improvement. Designed for all staff working in or with general practice, it requires no prior knowledge or experience of quality improvement.
By the end of the session participants will have:
Developed an understanding of the ingredients of successful change
Understood what quality improvement is and how it can help you make improvements in your general practice
Have an overview of practical tools to get started on your improvement work
An increased understanding of High Impact Action number 10 – Develop QI Expertise, to release time in general practice.
To book a place and attend a session please register for the appropriate session below:
National improvement community for primary care
We will establish a new national community of practice for clinicians and managers involved in facilitating innovation, improvement and transformation in general practice and wider primary care. This will spread good ideas more quickly, help to accelerate local change and support change leaders in sustaining progress and their own resilience.
Change leaders often feel isolated, particularly in primary care, where there are relatively few people skilled in improvement science and transformational change. Having received initial training in improvement science, many do not have other opportunities to maintain or grow their skills. Recruiting and mentoring others is hard work.
The new national improvement community will seek to address these challenges by creating a community of practice supported by regular networking and access to advanced coaching in improvement and transformational change. It will be facilitated by NHS England's general practice development team and provide access to national policy leaders and international improvement experts as well as creating rich peer-to-peer networks. A programme of national and regional events will provide multiple opportunities for members to share and learn together, and this will be augmented by online networking and webinars.
The full programme for the community will be announced in September 2016. Membership will be free.