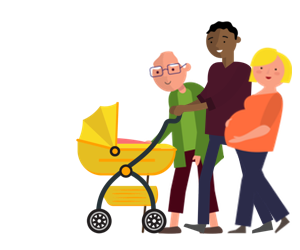 Region: Midlands
Population: 0.8 million
Find out more about Lincolnshire sustainability and transformation partnership (STP) including details of its population size, constituent organisations and priorities.
Priorities
Neighbourhood teams will focus on prevention and proactive care, with several services in the community coming together to reduce unnecessary hospital admissions.
Community hospitals and primary care hubs will be part of the neighbourhood team network in delivering care in the community and closer to home.
Keeping people well and healthy by raising awareness of the importance of self-care and leading healthy, independent lives. Social prescribing will help people access services to support them in their own personal health and wellbeing and a directory of services will signpost people to useful community groups.
Hospitals will primarily support those patients who require emergency or planned care.
Resilient specialist mental health inpatient facilities are already being developed, including a psychiatric intensive care unit, to reduce the number of patients who need to
travel out of county for appropriate care.
Constituent organisations
The following organisations are part of Lincolnshire STP. For individual contact details for these organisations, please see the NHS website.
East Midlands Ambulance Service NHS Trust
Lincolnshire Community Health Services NHS Trust
Lincolnshire East CCG
Lincolnshire Partnership NHS Foundation Trust
Lincolnshire West CCG
South Lincolnshire CCG
South West Lincolnshire CCG
United Lincolnshire Hospitals NHS Trust
Other organisations involved:
Age UK – Lincoln and North
Alzheimers UK
Diabetes UK
Healthwatch Lincolnshire
Kesteven
LACE Housing
Lincolnshire Care Association
Lincolnshire Community and Voluntary Service
LIVES
Macmillan Cancer Support
Marie Curie
St Barnabas Hospice
Stroke Association
The Peoples Partnership
Unison