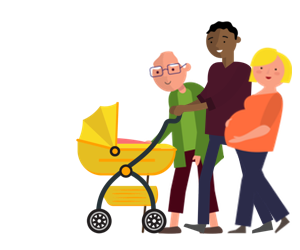 Region: Midlands
Population: 0.8 million
Find out more about Northamptonshire sustainability and transformation partnership (STP) including details of its population size, constituent organisations and priorities.
Priorities
Prevention and keeping people well. Working together to improve community support and keeping people well through targeted interventions.
Making sure that people are able to access the right care when they need it, in primary, community and urgent/emergency care services.
Helping people with complex needs to manage their own care and remain independent, ensuring that when individuals are admitted to hospital, we help them to return home as soon as possible.
Our hospitals working more closely together and bringing services closer to patients so people don't
always need to travel to hospital for the care they need.
Investing in our staff and engaging our communities as we continue to develop services
Constituent organisations
The following organisations are part of Northamptonshire STP. For individual contact details for these organisations, please see the NHS website.
3Sixty
DocMed/PML – Principal Medical
General Practice Alliance Ltd
Kettering General Hospital NHS Foundation Trust
Lakeside Healthcare Group
NHS Corby CCG
NHS Nene CCG
Northampton General Hospital NHS Trust
Northamptonshire County Council
Northamptonshire Healthcare NHS Foundation Trust
Voluntary Impact Northamptonshire
Contact Northamptonshire STP
STP leader: Angela Hillery, Chief Executive of Northamptonshire Healthcare NHS Foundation Trust
Email: nhcp.communications@nhs.net