Executive summary
1. Continuing industrial action in the NHS has had a significant impact on patients and their families, with more than half a million appointments and operations having to be rescheduled in the last several months.
2. Pressure on the NHS has continued in recent months with emergency departments across the country seeing 2.22 million attendances, the busiest June ever, and over 523,000 emergency admissions – both higher than the previous month – but performance was nonetheless significantly improved on last year.
3. The most recent data shows NHS staff are continuing to make progress on reducing the longest waits for care. By the beginning of July 2023, the NHS had reduced the number of people waiting more than 78 weeks by over 90% from the peak to 7,363 patients. The number of patients waiting over 65 weeks has fallen by 33% since the beginning of January 2023.
4. Occupancy in acute beds remains high with patient flow through hospitals a key challenge. We have published for the first time this month additional information which explains the reasons why patients have experienced delays in leaving acute and community hospitals, as well as where they have been discharged to.
5. The NHS has made progress on increasing support to those outside of hospital. Urgent Community Response helps avoid hospital admissions and improve patient care by providing urgent care to people in their homes. ICBs now have full coverage and the latest data shows that nationally 84% of patients were seen within the 2-hour standard, with every region exceeding or meeting the 70% target in the Planning Guidance.
6. In diagnostics, the NHS has increased community access and overall activity levels. More than 2.1 million checks and scans were carried out in May (2,187,933). Over the past 12 months (June 2022 – May 2023) more than 22.7 million checks and scans have been carried out.
7. The NHS continues to see high demand for cancer services. In May 2023, 245,595 people were referred for urgent cancer checks by their GP, a 12.6% increase from April 2023. Of these, 80.8% were seen within two weeks, an improvement from 77.7% compared to the previous month.
8. Good progress continues to be made in activity levels in general practice. In May 2023, 28.7 million GP appointments took place, of which 927,000 were COVID-19 vaccinations.
Urgent and emergency care
Urgent and emergency care services faced high demand in June.
The extended period of hot weather, mixed with thunderstorms and high pollen levels, resulted in an increased number of people seeking emergency care for heat exhaustion, breathing problems, and sunburn.
Despite this, the NHS is still on track to deliver the two ambitions set out in the recovery plan – ensuring patients are seen more quickly in A&E and improving ambulance response times for category 2 incidents.
73.4% of patients attending A&E were admitted, transferred or discharged within four hours – an improvement compared to the same point last year.
This development was with 2.22 million attendances to A&E, an average of 74,000 per day and 1.3% more than last month.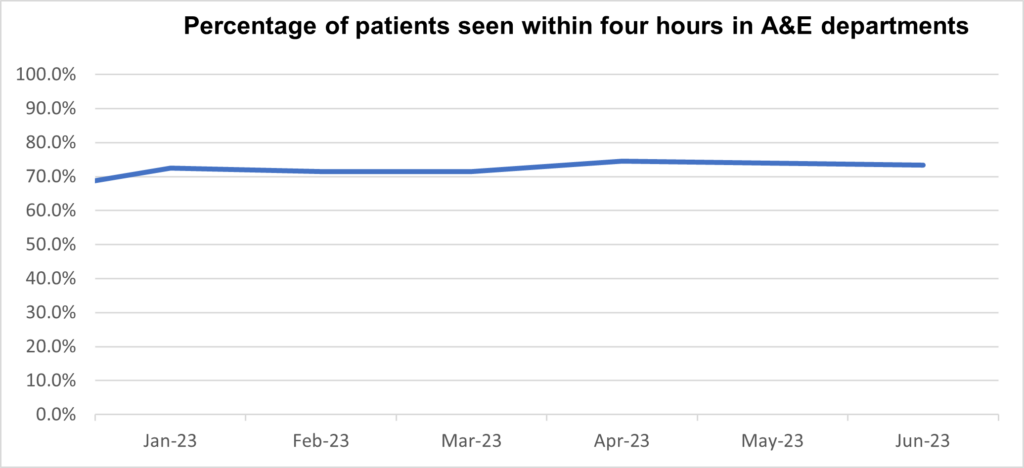 There were 787,675 calls to 999 answered in June 2023, or 26,256 per day, which was 5% greater than in May 2023.
The average ambulance response time for a category 2 call was 36 minutes and 49 seconds – significantly faster compared to the same month last year.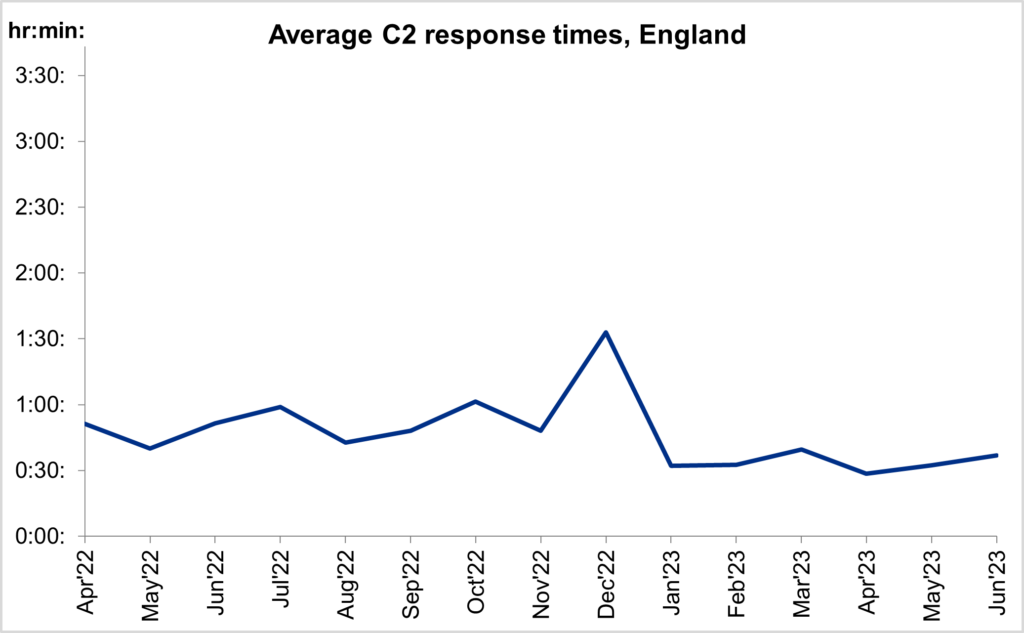 This month, for the first time, we have published additional discharge information. This includes the reasons why patients have experienced delays in leaving acute and community hospitals and also the locations where patients have been discharged to.
This new information shows the number of patients remaining in hospital who no longer meet the criteria to reside has decreased by 2.3% since last month.
Over the last month, the most common reasons for delays in people leaving hospital were assessment for and availability of at-home ('domiciliary') care, availability of a rehabilitation bed in the community, and availability of a bed in a residential or nursing home.
Timely and appropriate discharge is the right thing for patients and is also extremely beneficial for in-hospital flow. Publishing this information is a significant first step towards better understanding the whole patient journey, ensuring they get to the right setting, at the right time.
Elective recovery
The NHS has made further progress in reducing the number of people waiting the longest for care despite industrial action, three bank holiday weekends and continued high demand for services.
Additional data published this month shows 7,363 patients were waiting more than 78 weeks for treatment by the beginning of July. This is down from a peak of 124,911 in September 2021.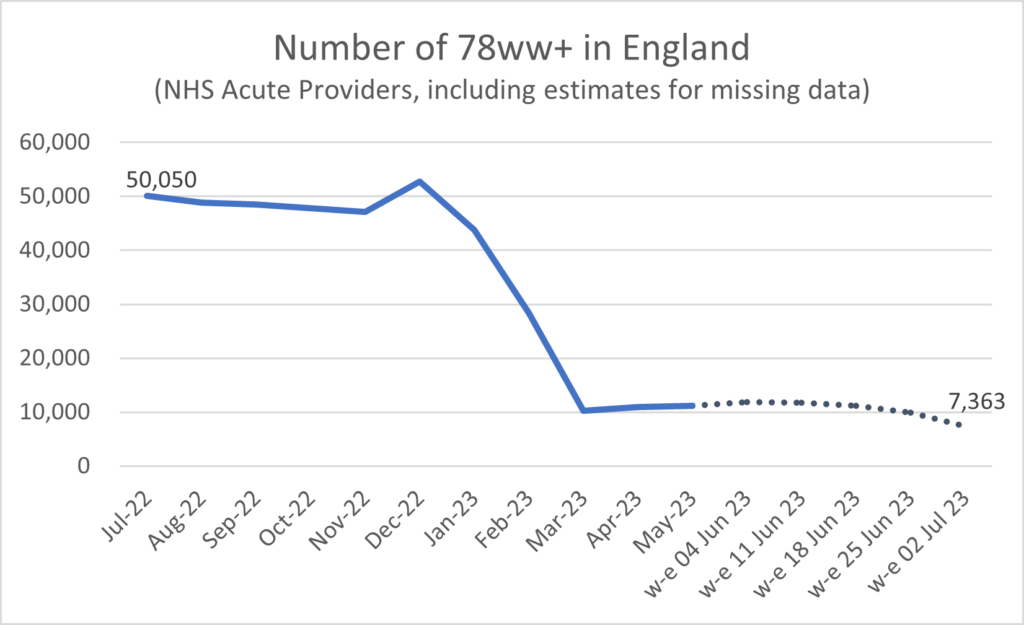 As of the end of May 2023, around 1.3% (96,801) of patients had been waiting more than 65 weeks and 5.1% (385,022) over 52 weeks.
The average waiting time is now 14.1 weeks. This is lower than the average wait of 14.6 weeks in January.
A patient's waiting time for elective treatment starts when a referral is made into a consultant led service in secondary care – this is known as a clock start.
Analysis suggests that one in seven people on the elective waiting list are on waiting for treatment for two or more conditions.
Cancer
Demand for cancer services continued at record levels in May with the number of urgent suspected cancer referrals at 128% of pre-pandemic levels. To meet high demand, treatment is also at record levels and there has been a reduction in the 62- day cancer backlog as a result.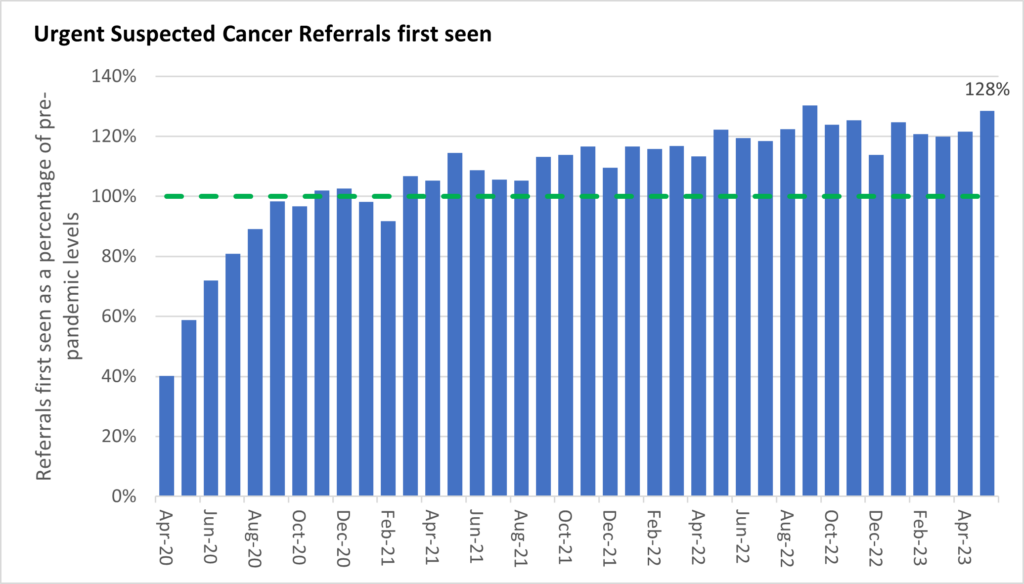 Over 332,00 people received treatment for cancer over the last year between June 2022 and May 2023 – the highest year on record, and up by more than 19,000 on the same period pre-pandemic.
GPs have been referring people for urgent cancer checks in record numbers since March 2021. Since then, NHS staff have seen over 860,000 more people than in the same period prior to the pandemic.
The increase in referrals has contributed to the NHS diagnosing more cancer at an early stage than ever before – estimated to be about 2% higher than before the pandemic. Survival is also at an all-time high.
In 2023, the Annals of Oncology published findings showing that cancer deaths are around 10% lower in the UK compared to just 5 years ago.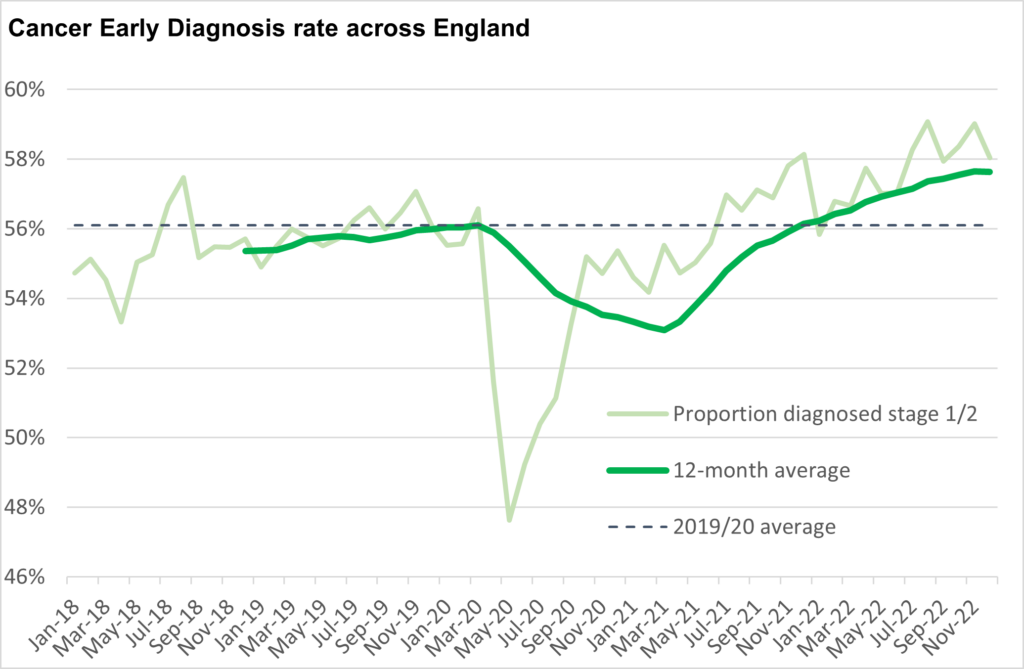 The NHS is working hard to keep up with this increase in demand. It has been accelerating the installation of new diagnostic capacity, much of it in Community Diagnostic Centres.
The backlog has already reduced by 10,000 people since its peak last summer, and despite the recent seasonal increase, NHS staff remain focused on ensuring that people who have been waiting longest or who need care most urgently are seen first.