Foreword
This research was conducted through a survey in March and April 2022 for which the link was emailed to all registered NHS volunteer responders, and through 12 online discussions with groups of volunteers. It has provided valuable insights into the volunteer experience which will help shape the future programme.
The most striking finding is that people from ethnic minority communities reported significantly greater benefits from volunteering than those with a White background. This new data reveals the potential for NHS volunteer responders (NHSVR) to widen access to NHS careers, and to boost wellbeing and community cohesion.
Of the 11,107 survey respondents:
The overwhelming majority were proud to have taken part, felt valued and that they were fulfilling a genuine need.
People who were new to volunteering said they were now keen to continue,
3 in 4 found their volunteering easy and convenient to manage through NHSVR's process which involved a smartphone app.
When results are analysed by ethnicity some interesting differences emerge suggesting the NHSVR programme, and possibly other NHS volunteering, has a role to play in tackling equality and health inequality.
People from ethnic minority groups reported far greater personal benefits including improved wellbeing and mental health, and stronger connections within their immediate neighbourhood.
Significantly more volunteers from ethnic minority groups said that volunteering would support their career progression or had already done so.
Almost 5 times as many people from ethnic minority communities than those from White backgrounds said they would now consider applying for NHS jobs.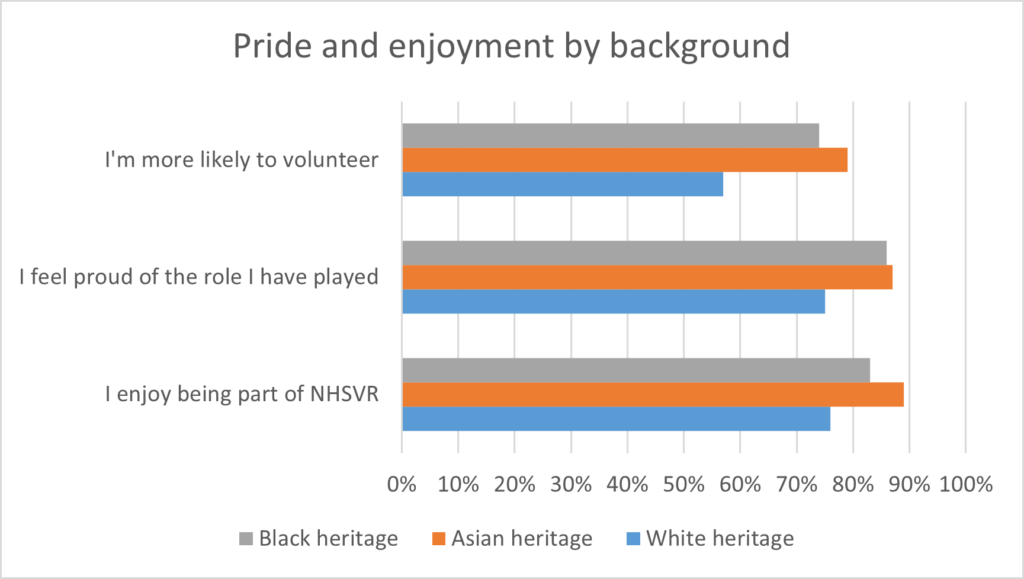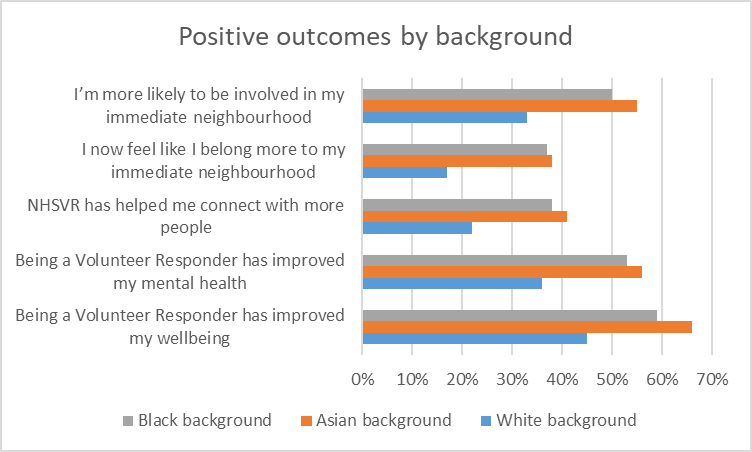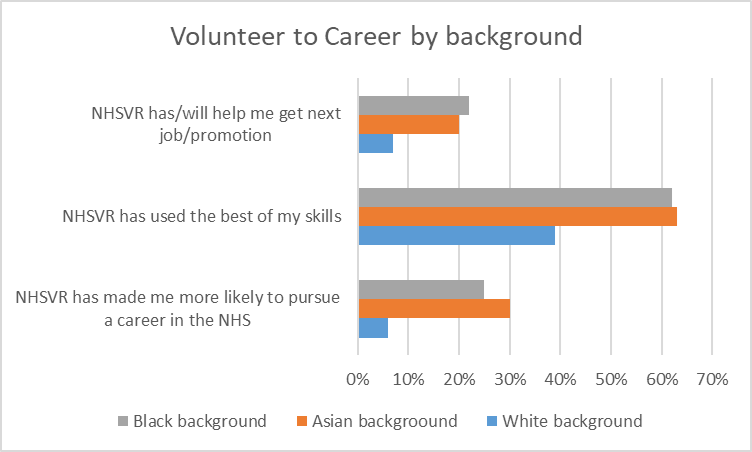 Background to the programme
NHSVR was established by NHS England in March 2020 to engage a national group of volunteers to support clinically vulnerable people to self-isolate by delivering their food and medication, providing telephone befriending, and giving lifts to medical appointments. Volunteers also provided light goods transport for NHS organisations. It was initially planned as a short-term pandemic response, however, the extended impact of COVID-19 and the requirement for a rapid national vaccination rollout led to its extension, and to the addition of new volunteer roles.
The pressing need for hundreds of thousands of volunteers to be recruited and deployed in the spring of 2020 meant that sign-up processes were simplified as far as possible, and this included not asking recruits to state their ethnicity. This has meant that we have been unable to cross check whether the percentage of survey respondents who had an ethnic minority background was approximately equal to the number of total volunteers with an ethnic minority background.
The programme has been delivered by Royal Voluntary Service (RVS) – whose remit has included managing the volunteers – and GoodSAM who provided an innovative digital platform. The GoodSAM smartphone app meant the programme could be delivered through 'micro-volunteering' enabling volunteers to accept individual tasks or shifts at varying times, rather than committing to a regular schedule.
NHSVRs were able to adjust their availability by toggling on/off duty on a smartphone app. Requests for support (known as tasks) were sent to on-duty volunteers within the relevant geographical area, triggering an alert on their smartphone. If the volunteer was unable to undertake a task they received, the alert moved on to the next available volunteer in that area. As demand for Check in and Chat phone calls increased during the programme, an adjustment was made to enable volunteers to make these calls to clients in any location.
Vaccination steward volunteers placed themselves on vaccination site rotas in a different way. They did not have to toggle on duty but were asked to proactively check rota slots within their chosen travel distance, adding themselves to the rota at convenient times.
Despite some initial problems, mainly due to an over-supply of volunteers in areas of lower demand, the programme achieved significant successes. It recruited more than 460,000 active volunteers who delivered over 2.2m tasks within the first two years.
As a result, NHS England recommissioned the programme in October 2022 to work with integrated care systems to provide longer-term support for health and care services, as well as continuing to provide additional capacity for future emergencies. RVS and GoodSAM successfully bid for renewed contracts for up to five years, and a service design partner was procured to develop and test roles relevant to the post-pandemic period. This report covers research designed to help inform the development of the new programme. It includes responses from active volunteers as well as some who signed up as volunteers but then chose not to undertake tasks or shifts, and others who did not have an opportunity to do so due to low demand or high volunteer numbers within their home area.
Introduction
In April 2022 NHS England launched a month-long volunteer experience and insight survey for NHS volunteer responders (NHSVR) using the online platform CitizenSpace. Two years after the launch of NHSVR, we wanted to understand how volunteers felt about:
how the programme was run
the impact of NHSVR on themselves, and the organisations and people they supported
the future of the programme and their role in it.
Of the 11,107 respondents, 45% were still volunteering; a further 34% had stopped volunteering; 9% had never received a task alert or had access to a shift within their agreed travel distance, and 4% had the opportunity to accept tasks or shifts but had not done so. (The remaining 8% gave more detailed answers, some of which covered more than one of these categories).
The survey's aim was to provide information for policy makers and future programme providers charged with developing NHSVR beyond a pandemic response to something that can provide ongoing support for the NHS and social care organisations. We want to use this insight to support high quality volunteer experience, activity and retention as the programme develops and expands.
In addition to the survey, we invited NHS volunteer responders to take part in virtual engagement meetings. We ran 12 meetings, involving more than 200 volunteers. We used these sessions to provide qualitative insight into areas relevant to the future of the programme including:
elements we should retain and those we should change as the programme develops
how we could increase access to the programme for a diverse range of volunteers and clients
other roles volunteers would be interested in undertaking
different settings volunteers would be willing to support.
This report analyses and summarises findings from both activities.
(Note: percentages have been rounded to the nearest decimal point within the text. Quotations shown are taken from the free text responses within the survey.)
Survey results
Who participated in our survey?
It was significant to see that, two years into the programme, we were able to attract such a strong response, almost matching the 12,000 who responded to a Royal Voluntary Service survey about the programme, conducted just three months after its launch.
In keeping with NHSVR volunteer data gathered during the pandemic, survey respondents tend to be older with 51% aged 55-64 and more than 40% aged 65-69. Less than 3% of respondents were under 35-years-old. There is also a gender bias with women making up 59% of survey respondents.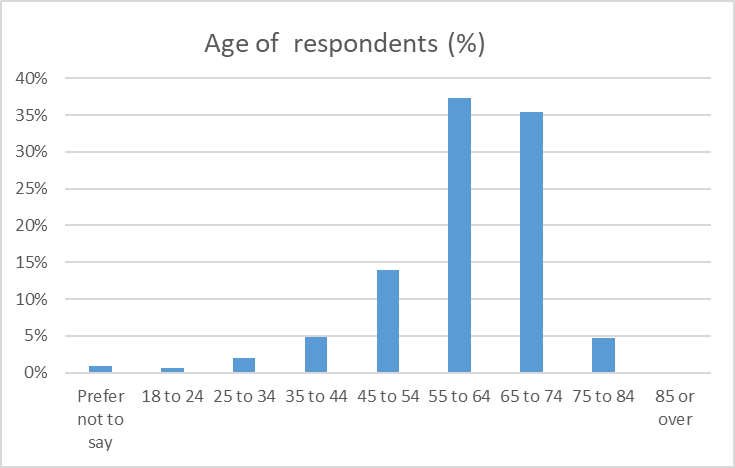 Volunteers from ethnic minority communities are also under-represented in the survey. More than 88% of respondents were White British while less than 6% were from a Black, Asian, or mixed background. However, thanks to the high overall survey response, this still amounts to more than 600 respondents who, between them, have given us some new and valuable insight which we can use to improve both the diversity of our volunteer base and the potential for NHSVR to reduce health inequalities.
| | | |
| --- | --- | --- |
| Option | Total | Percent |
| White (1) | 10,255 | 92.33% |
| Asian (2) | 342 | 3.09% |
| Black (3) | 124 | 1.12% |
| Any other ethnic group (including other mixed background) | 170 | 1.53% |
| Do Not Wish to Disclose | 216 | 1.94% |
| Not Answered | 0 | 0.00% |
Figure 5: The number of survey respondents, broken down by ethnic background.
White British, Irish and other White background
Indian, Pakistani, Bangladeshi, Chinese, other Asian and mixed background
African, Caribbean, and other Black background including mixed background
Has NHSVR achieved its purpose?
"I have enjoyed being able to support vulnerable people in the community. They were all so grateful and happy to receive my help, which made volunteering satisfying, and worthwhile."
Respondent statement submitted as part of the survey.
NHSVR was set up as part of the NHS response to COVID-19. Its aims were to support the NHS and to help the clinically extremely vulnerable and others to self-isolate. Survey responses suggest NHS volunteer responders think we have succeeded in this ambition. More than 89% of respondents said the programme had benefited the NHS and more than 80% said it had benefited their community. In addition, nearly 78% of respondents think the programme should continue with less than 4% of respondents actively disagreeing.
We know from the previous research carried out in July 2020 by Royal Voluntary Service that NHSVR attracted many people who were new to volunteering. Our new survey findings suggest the programme has also encouraged volunteers to take their volunteering further with nearly 58% of all survey respondents agreeing or strongly agreeing that being involved with NHSVR had made them more likely to look for other volunteering opportunities in the future. Analysis of responses from ethnic minority communities, suggests that volunteers from a Black, Asian, or mixed background are significantly more likely to volunteer elsewhere as a result of being involved in NHSVR, than White volunteers.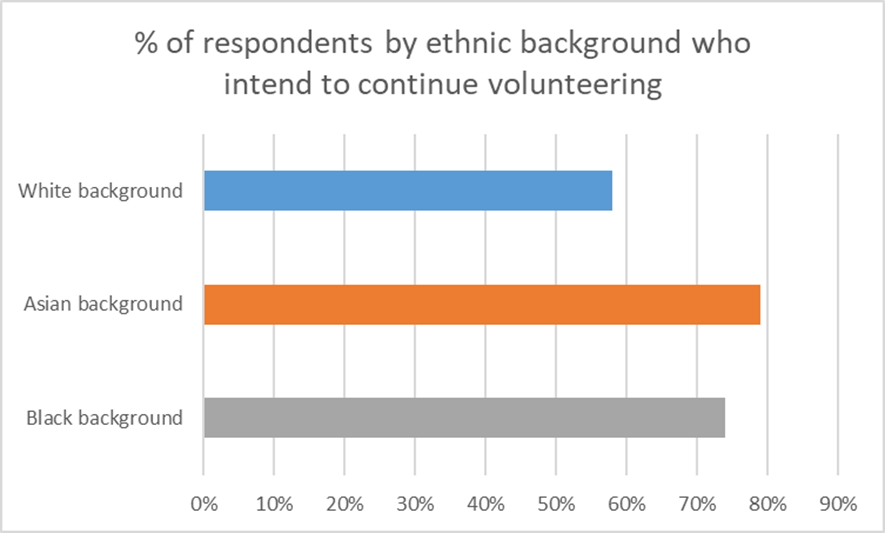 Volunteer experience
"I felt the camaraderie and the experience at the big stadium events I did, like StoneX and Wembley, were awesome."

"It gave me a sense of purpose, a sense of achievement, a sense of giving back to the society."

"I had recently moved into the area, therefore during the pandemic being a Volunteer Responder greatly aided my mental health and engagement with the local community."
Respondent statements submitted as part of the survey.
Having 460,000 volunteers accepting tasks at some point in the programme, has enabled us to test the principles of micro-volunteering and the digital processes around it on a large scale – with some positive results.
NHS volunteer responders appear to identify closely with the GoodSAM app. Nearly 55% described themselves as volunteers using GoodSAM to help the NHS compared with 21% who described themselves as Royal Voluntary Service (RVS) volunteers and 17% who described themselves as NHS volunteers.
More than three in four respondents (over 76%) agreed or agreed strongly that the GoodSAM app was easy to use and a similar number (just over 73%) agreed or strongly agreed that it had made it easier for them to volunteer. NHS volunteer responders participating in engagement meetings after the survey echoed this positive response to the GoodSAM app (see engagement meetings below). However, it's worth noting that more than one in ten (11%) of the survey respondents didn't find the GoodSAM app easy to use and 12% told us that the app didn't make it easier for them to volunteer. There were only marginal differences in these responses between people with a White or ethnic minority background. Respondents with a disability also appeared slightly more likely to find the app difficult to use, but this assumption needs to be tested further if it is to be used to inform the future programme.
Being in an older age group does not appear to impact these findings. Rather, younger volunteers (18 to 34-year-olds) were slightly less likely (72%) to find the app easy to use. Again, the numbers of younger people responding to the survey means this needs testing further before feeding into the future programme.
Volunteers liked the flexibility of the programme. NHSVR was developed in such a way that volunteers could fit their volunteering around other commitments by 'toggling' on duty in the GoodSAM app and picking up individual tasks or stewarding shifts at a time to suit them. More than 86% agreed or strongly agreed that they liked being able to select the times they could volunteer. Nonetheless, nearly 17% of respondents would have preferred a more structured rota for their volunteering; and 7% found it difficult to stay on top of when they were meant to be volunteering.
Volunteer responders also feel both pride and enjoyment in being involved in NHSVR. More than three in four survey respondents (76%) agreed or strongly agreed that they enjoyed being part of NHSVR and a similar proportion (75%) felt proud of the role they had played. Among Black and Asian respondents, these sentiments are even stronger. For example, 89% of Asian respondents (including those with a mixed background) enjoyed being an NHS volunteer responder and 87% were proud of the role they had played.
All (%)

White
background (1)

Asian
background (2)

Black
background (3)

I enjoy being part of NHSVR

76%

76%

89%

83%

I feel proud of the role I have played

75%

75%

87%

86%

I'm more likely to volunteer

58%

57%

79%

74%
Figure 7: The percentage of respondents who felt pride and enjoyment in being an NHS volunteer responder, shown by ethnic background.
White British, Irish and other White background
Indian, Pakistani, Bangladeshi, Chinese, other Asian and mixed background
African, Caribbean, and other Black background including mixed background
Why do volunteer responders leave the programme?
Volunteers' reasons for no longer picking up tasks largely reflected the passage of the pandemic and the loosening of COVID-19 restrictions. Of the 3,771 respondents who answered this question, 27% no longer had the time to volunteer; 29% said there were no suitable opportunities in their area and 14% felt the programme had achieved its aim of supporting the shielding population.
"When I contacted people after accepting a task, it transpired they no longer wanted help. This happened a lot. I found a local volunteering role within an NHS Trust which was easier to manage with regular attendance pattern."

"I went back to work after being furloughed."
Respondent statements submitted as part of the survey.
However, some left because they weren't having a good volunteering experience. Just over 5% of those who answered this question said weren't enjoying volunteering while 9% didn't feel their contribution was valued. Given the number of volunteers involved with NHSVR, small improvements in volunteer experience could result in a significant number of volunteers remaining with the programme and available to support the NHS and their communities and this will continue to be a priority within the new programme.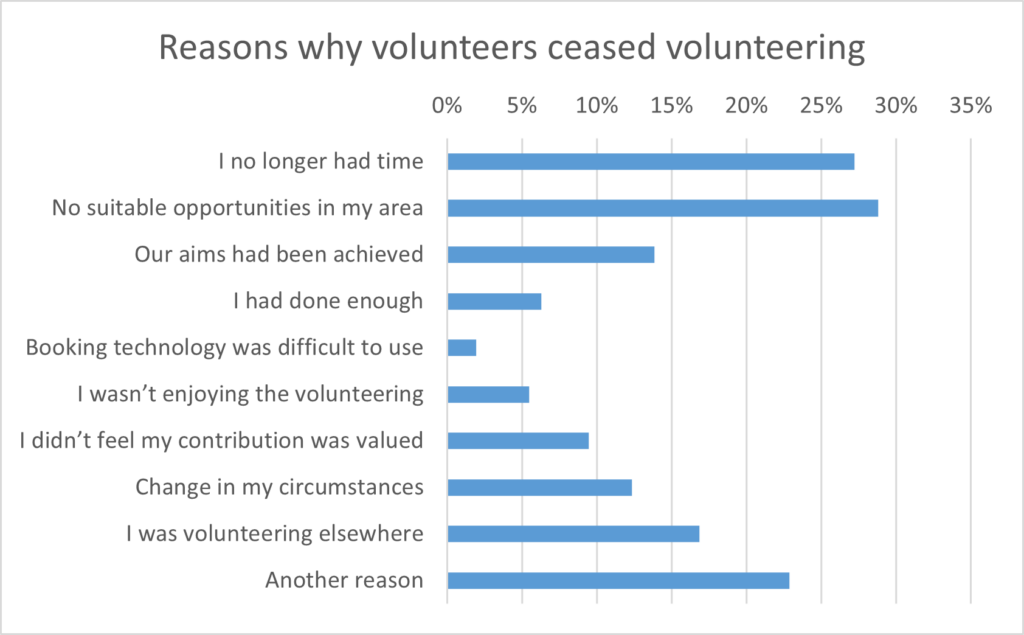 The engagement meetings also picked up on the particular issues facing vaccination Steward Volunteers, for example, some reported last minute shift cancellations or not having enough to do while on a shift (see Engagement Meetings below). Royal Voluntary Service, in its role as volunteer manager, and the NHS COVID-19 Vaccination programme team have worked with vaccination centres to improve volunteer experience as a direct result of this feedback and this continues to be important learning for future programme developments.
Other benefits to volunteers
1. Wellbeing
We know from research carried out in 2021 by the London School of Economics, that NHSVR has had a positive impact on volunteers' wellbeing. Our new survey largely bears this out but offers some additional insight into the effect on specific groups of volunteers. We asked volunteers a series of wellbeing questions including around the impact of being a Volunteer Responder on their community connectivity.
Nearly 45% of all respondents agreed or strongly agreed that their wellbeing had improved by being involved in NHSVR. However, this figure is considerably higher among respondents from ethnic minority communities; 66% of respondents from an Asian background and 59% from a Black background said being an NHS Volunteer Responder had improved their wellbeing.
"It felt very good knowing that I'm able to help people by simply talking to them/listening."

"Gave me a purpose during lockdown."
Respondent statements submitted as part of the survey.
2. Mental health
There is a similar picture around the impact on volunteers' mental health. Just over one in three (36%) of all respondents agreed or strongly agreed that being a Volunteer Responder had improved their mental health. Among Black respondents this rose to 53% and among Asian respondents to 56%.
"I suffer with depression and am a victim of homophobic abuse from neighbours. Being around supportive people has helped me forget about my troubles, even for a few hours."
"Struggling with a mental health issue, grief due to loss of a child and the pandemic, being able to volunteer gave me a real sense of purpose and a real sense of doing something positive. It had a profound impact on my recovery."
Respondent statements submitted as part of the survey.
3. Connection to community
The survey data also provides interesting insight into the impact an expanded and more diverse programme could have on community cohesion. While 23% of all respondents said NHSVR has helped them connect with more people, among Black and Asian respondents this rises to 38% and 41%, respectively. And while 18% of all respondents said they now felt they belonged more to their immediate neighbourhood since becoming an NHS volunteer responder, this figure goes up to 38% among survey respondents from a Black or Asian background. Finally, 34% of all respondents said they were now more likely to be involved in their immediate neighbourhood, compared with 50% of Black respondents and 55% of Asian respondents. (See Fig. 2 above)
"I recently retired and being a volunteer has helped me to support my local community and keep active. I've got to meet lots of new people."
"It has given me much greater awareness of people in our community who REALLY need help."
Respondent statements submitted as part of the survey.
What else would volunteer responders do and where?
Mindful of plans to expand NHS volunteer responders into other parts of the NHS and social care sectors, we also asked volunteers about which health and care settings they would be happy to support and what would motivate them to take on new roles. In particular, we asked them how they felt about volunteering with their local ambulance services, hospitals, and/or primary care teams (GP surgeries and pharmacies).
Primary care was most popular with 19% of volunteers responding to this question saying they would be very interested in volunteering in this setting and 56% possibly interested. Less than 13% said they were not interested or not at all interested. Hospitals are also popular settings for volunteers, with 18% very interested and a further 49% possibly interested in volunteering in their local hospital trust.
Thinking about the future of the programme, we also asked volunteers how they would feel about supporting adult social care, by volunteering in care homes. It is clear from their responses that we will need to do further engagement should we be able to offer volunteering opportunities in the care sector; just over one in four (26%) of respondents said they were interested in supporting care homes. However, the fact that nearly 80% of respondents want to offer support to their local communities and neighbourhoods suggests NHS volunteer responders could be more willing to support care homes in their neighbourhoods.
On a possibly more positive note, younger volunteers appear more likely to consider roles in care homes, with more than 12% saying they were very interested in supporting care homes, compared with 3% overall. However, younger people form a tiny percentage of all respondents and this assumption will need further testing.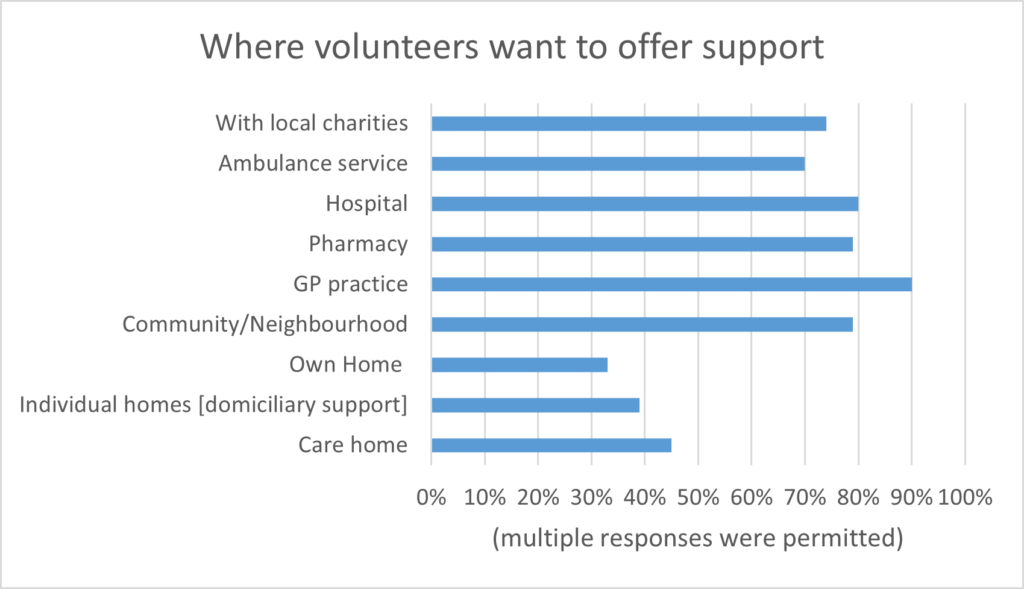 We asked volunteers to suggest other settings in which to volunteer to support health and care services. Suggestions included fundraising, supporting refugees, supporting people who are terminally ill, and in-person visits to help people live independently.
"I would be happy to help deliver prescriptions and medical equipment for people locally."
"I'm a freelance events organiser. I would love to help fundraise and organise community events."
"Mental health support (health, social care) for refugees"
"Helping terminally ill patients, children especially"
Respondent statements submitted as part of the survey.
Reasons for volunteering
Responses show that meeting a need (more than 60% of respondents) and having a clear understanding of the value of their contribution (more than 53% of respondents) are the primary reasons for NHS volunteer responders picking up a particular role. But convenience is important too. Nearly 47% said being able to choose volunteering times that worked for them was a primary reason for picking up a role; while 39% stated that being 'easy to get to' was a partial reason for choosing a role.
Volunteer to career
Potential for career advancement was the least popular reason among respondents for picking up a volunteer role. More than 91% of respondents said this was not really a reason for undertaking a role. However, it is worth noting that among the, small, group of 18 to 34-year-old respondents, 38% cited this as a main reason for choosing a volunteer role. This assumption needs further testing if it is to be used to inform the future programme.
Responses to other questions also suggest that younger NHS volunteer responders view their participation in NHSVR as a career benefit. So too do survey respondents from ethnic minority communities. For example, four in ten respondents (40%) felt that NHSVR had used the best of their skills. But among the under-35s this rises to nearly five in ten (49%) and among Black and Asian respondents it leaps again to more than six in ten (62%). (See Fig. 3 above.)
When it comes to getting a new job or promotion, the differences are even starker. Only 7% of all respondents said that being an NHS volunteer responder had helped or would help them get their next job/promotion. But among Asian respondents this rose to 20%; among Black respondents to 23% and among the under-35s to 29%.
An expanded, more diverse NHSVR programme could also have a positive impact on the NHS workforce. When asked if being an NHS volunteer responder made them more likely to pursue an NHS career, 32% of respondents under 35 said yes (agreed or strongly agreed); 30% of respondents with an Asian background said yes, and 25% of people with an African, Caribbean or other Black background said yes. This compared with less than 8% of all survey respondents.
These results are important for a programme that is looking to expand in scope, accessibility, and diversity over the next year and beyond. However, note the caveat above to using data from younger respondents.
| | | | | |
| --- | --- | --- | --- | --- |
| | All | White background (1) | Asian background (2) | Black background (3) |
| NHSVR has made me more likely to pursue a career in the NHS | 8% | 6% | 30% | 25% |
| NHSVR has used the best of my skills | 40% | 39% | 63% | 62% |
| NHSVR has/will help me get next job/promotion | 7% | 7% | 20% | 22% |
Figure 10: The percentage of survey respondents whose career prospects or choices have been influenced, shown by ethnic background.
White British, Irish and other White background
Indian, Pakistani, Bangladeshi, Chinese, other Asian and mixed background
African, Caribbean, and other Black background including mixed background
Engagement meetings
NHS volunteer responders were also invited to participate in a series of online engagement meetings to help us understand in more detail what aspects of NHSVR have worked well for them, what could have been better, and how they might like to volunteer in the future. Nearly 400 people expressed an interest and more than 200 chose to take part in one of 12 online meetings held in June and July 2022.
Positive feedback
Comments echoed some of our survey results with the GoodSAM app being seen as a positive for the scheme. NHS volunteer responders also noted the flexibility of the programme – they liked to sign up to tasks and shifts as and when they were available.
In addition, volunteers told us they liked being asked for feedback after each task – this was a facility that was introduced into the GoodSAM app as a result of earlier volunteer feedback.
Several volunteers also highlighted the value of the Check in and Chat role and hoped this would be brought back as a means of combating loneliness both for clients and volunteers.
Improvements we could make
Steward volunteers noted their concerns about shifts being cancelled without informing volunteers beforehand, and some shifts being overstaffed. There was also a call for name badges to be available for Steward volunteers. It's worth noting that RVS has worked hard with the COVID-19 Vaccination programme team to improve the experience for steward volunteers.
Some volunteers appeared unaware of the extent of the safeguarding support available and wanted to be updated when they refer clients to safeguarding services. There were also some concerns raised about how helpful the support team had been to the volunteers.
Meanwhile, some volunteers wondered if it would be possible to set up a web version of the GoodSAM app so they could use their laptops or PCs to manage tasks and shifts.
Other considerations
We used a range of questions to tease out other issues and concerns for volunteers. These included the following comments.
Vaccination shifts are still too long for some volunteers – with some centres still asking for six-hour shifts.
Escalating fuel costs and carbon emissions should be considered when asking volunteers to drive to tasks/shifts.
Volunteers would like to be able to increase the regularity of their volunteering more easily around their personal lives – especially when they find a task they like doing.
There was a call from some for the NHSVR volunteer base to be more diverse.
One volunteer objected to the phrase 'micro-volunteering' as they felt it demeaned the value of the tasks they picked up.
There were concerns that, in some cases, volunteers were supporting people who didn't really need their help.
Other volunteer responder roles
We presented a series of possible roles and settings that volunteers would be prepared to undertake, and support and we asked them to suggest some of their own. Voting within the sessions revealed the three most popular roles/tasks as:
supporting testing, immunisation, and screening
administrative support
distributing food
The three least popular were:
laundry
cleaning
catering
When it comes to settings, the vast majority would be happy supporting their GP practice, and the least popular setting is volunteering from within their own home. This may reflect the importance of social contact within volunteering to this cohort of NHS volunteer responders.
There was almost equally strong support for volunteering with ambulance services, hospitals, pharmacies, local community groups and local charities.
The volunteers also came up with task/role ideas of their own, which we have themed below.
Supporting day to day living​
Gardening, dog walking, help around the home, help with eating, taking people out/shopping, delivering food/shopping, running errands, general transport, supporting independent living​.
Befriending​
Phone contact, regular in-person visits, companionship, company, listening, mentoring, coaching, advocacy​.
Support with medical needs​
Transport and chaperoning for medical/dental appointments, collection/delivery of prescriptions/medication, first aid, supporting access to healthcare. ​
Specific health support – mental health, chronic conditions, dementia, terminal illness. ​
Administrative and technical support​
Help with general administration – form filling, paperwork, legal processes.
Digital inclusion and help with technology – computers, phones, internet, technology for disabled people.
Supporting the NHS​
Meeting/greeting wayfinding at hospital/GP/pharmacy​.
Hospital/medical transport of patients/medication/equipment​.
Back office support/data entry/reception at hospital/GP, research assistance. ​
Healthcare roles – volunteer vaccinators, ward support, other roles at GP. practices, supporting CMHT services, accompanying outreach​.
Community Support​
For patients – food banks, craft/leisure activities, signposting, family liaison, parent/child support, minorities outreach, organising events, local groups, home discharge support, bereavement support, supporting carers and people who are isolated​.
Volunteer support
Peer support, developing volunteer ideas, volunteer socials.
Conclusion
The NHSVR programme team would like to thank all the volunteers who took part in the survey and engagement sessions. The vital contribution which the existing volunteers can make is clearly demonstrated through their enthusiastic participation in this research and their feedback will help shape the development of the programme. We expect volunteer and wider stakeholder engagement to have an ongoing role in the evolution of the programme to ensure it remains fit for purpose for volunteers, health and care systems and the wider NHS.
Most importantly, we have gained valuable new insight through the survey data relating to volunteers from ethnic minority communities. Their responses have shown the extra benefits they gained or expect to gain from volunteering within the programme. This signals exciting potential for NHSVR to have an impact well beyond its original remit of support for vulnerable clients and the NHS. There is an opportunity both to significantly enhance the wellbeing of volunteers from ethnic minority communities, and to help achieve the NHS priorities around increasing equality, diversity and inclusion within the NHS People Plan and enhancing community cohesion.
Through future research into the diversity and experience of the volunteers we will be able to capture the programme's impact across these important measures.
Publication approval reference: PRN1410
Version 1.0 December 2022