Bill Bailey to present NHS75 Extraordinary Portraits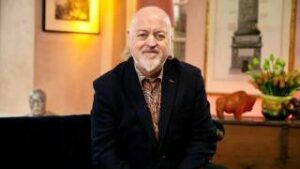 The comedian, actor, musician and author Bill Bailey has been announced as the presenter of a special NHS75 series of BBC One's Extraordinary Portraits.

The series will pay tribute to NHS staff and volunteers, marking the 75th anniversary of the NHS with a series of specially commissioned and inspiring portraits.
This six-part series will explore the art of portrait making, as Bill, a keen art lover, pairs up some of the most inspiring NHS staff with leading British artists.
Viewers will discover the stories of compassionate doctors, inspiring nurses, dedicated porters, passionate paramedics and cleaners who go above and beyond to help the people they care for. Their work, lives and personalities are captured for posterity in a new collection of compelling portraits.
Bill Bailey says: "It's been a real privilege to be part of the new series of Extraordinary Portraits. Hearing the incredible stories of the staff who work in the NHS, and watching the brilliant range of featured artists at work has been a fantastic experience. I can't wait for viewers to see ordinary, yet extraordinary individuals immortalised in portraiture, particularly on the 75th anniversary of the NHS".
Details about when the series will be aired will be announced shortly.
Artists and sitters details

Jemisha Maadhavji and Grace

Painter Jemisha Maadhavji is matched with inspirational junior doctor, Grace. Known for her vibrant portraits, detailed with carefully curated prints and colours, 26-year-old figurative artist Jemisha is inspired by subjects who don't fit conventional social labels. Which makes her the perfect artist to capture Grace, who despite sustaining a life altering spinal cord injury at 22, continued her medical studies and is now a practising junior doctor in a busy London A&E department.
Adebanji Alade and The Edwards Family
President of the Royal Institute of Oil Painters, Adebanji Alade takes on the gargantuan challenge of painting the whole Edwards family. Adebanji is no stranger to creating epic works of art, but here he is tested to the limit. Six people from three generations, spanning sixty years of dedicated service in the NHS. With a strong work ethic and an even stronger family bond, Adebanji strives to capture The Edwards' enduring commitment to caring for people, which is almost as long standing as the NHS itself.
Nick Elphick and Martin
Monumental sculptor Nick Elphick takes on the challenge of depicting inspirational surgeon Martin. Martin is a trauma surgeon at one of London's busiest hospitals, treating an average of two stabbings a day, and two shootings a week. A statistic made even more shocking because most of his patients are still children. But it is Martin's work outside the theatre that's making the biggest difference. Sculptor Nick Elphick works in a variety of mediums, and scales, but always with the same aim – not just to replicate the human form, but to express a deeper meaning within his pieces, but will he be able to encapsulate something of this multi-faceted surgeon?
Mark Draisey and Holly
Classicist painter Mark Draisey is matched with porter, Holly who joined Torbay Hospital in Devon during the pandemic. Transporting vital documents, samples, and people around the hospital, Holly walks the equivalent of three marathons in a week. Holly's change of career was her way of giving back to the service that saved her daughter Renae's life, when she was diagnosed with a brain tumour at just 8 years old. She is paired with award winning artist Mark Draisey who also had a change of a career when in 2016 he reignited his love for portrait art after a 30-year career as a caricaturist and illustrator. Meeting Holly and family, Mark wrestles with how to portray and do justice to Holly and Renae's incredible story.
Brock Elbank and Araf

Acclaimed photographer Brock Elbank is paired with Scotland's first Asian paramedic, and Queens Ambulance medal winner, Araf. When he is not saving lives on the road, Araf works with local mosques and Gurdwaras, equipping them with first aid knowledge and providing a bridge between communities. Attempting to capture this remarkable man is photographic artist Brock Elbank. Brock began his career in high-end fashion, but his love of celebrating those people who often go unrecognised in society has led him down a very different path.
Belinda Eaton and Jules
End of life care nurse Jules is matched with magical realist painter Belinda Eaton. Jules has made it her life's mission to make people's last days as pleasant as possible. Arranging everything from 'taste for pleasure' sessions, to last-minute marriages. Outside of work she runs 'Grief Cafes', to help staff come to terms with their own bereavements. This would all seem quite dark if it wasn't for the fact that she radiates positivity. Belinda's refusal to be tied to reality, or to perspective, gives her paintings a dreamlike quality. But how will she depict someone who's working life is spent on threshold between life and death?