Celebrating the NHS's 75th at NHS ConfedExpo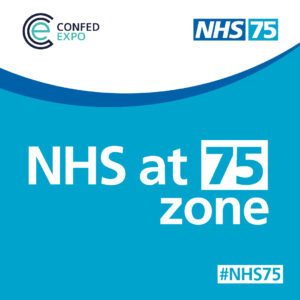 Delegates attending the annual NHS ConfedExpo in Manchester in June are invited to visit the NHS at 75 zone, which will be marking the NHS's 75th birthday with a range of talks from high profile speakers. There will also be a display of unique NHS memorabilia from Trafford Hospital (the 'birthplace' of the NHS) and the University of Manchester.
ConfedExpo, which unites health and care leaders and their teams at one of the biggest and most significant health and care conferences, takes place at Manchester Central on Wednesday 14 and Thursday 15 June.
Guest speakers on the NHS at 75 zone include the first baby born on the NHS, Aneira Thomas, and May Parson, the NHS matron who administered the world's first COVID-19 vaccine outside of clinical trials.
We will also be joined by historians Professor Stephanie Snow and Andrew Seaton who will focus on the history of the NHS, as well as Professor Tony Young, National Clinical Lead for Innovation at NHS England, who will explore how innovation will revolutionise the NHS over the next 75 years.
To mark the 10th anniversary of the launch of #HelloMyNameIs, Chris Pointon (husband to the late Dr Kate Granger) will talk about the history and impact of the iconic campaign.
Other speakers on the NHS at 75 zone include:
Dame Ruth May, Chief Nursing Officer for England
Dr Henrietta Hughes, Patient Safety Commissioner
Chris Hopson, Chief Strategy Officer, NHS England
Rebecca Barker, Governance and Quality Manager, Stockport NHS Foundation Trust
Dr Kim Moore, Lecturer in Creative Writing, Manchester Metropolitan University
Dr Christopher Law, Co-Founder and Medical Director, Apian
Em Wilkinson-Brice, National Director for People, NHS England
Dr Habib Naqvi, Chief Executive, NHS Race & Health Observatory.
To mark 75 years since the arrival of the HMT Empire Windrush at Tilbury Docks in June 1948, the NHS at 75 zone will also display a re-creation of the iconic Caribbean front room, which showcases many family favourites, from the Blue Spot Gramophone to the eclectic ornaments displayed in glass cabinets.
In addition, guests will be able to hear Tony Fairweather, Founder, The Windrush Collection and Max Oosman, Community Mental Health Nurse Practitioner, Lancashire and South Cumbria NHS Foundation Trust talk about the vital impact the Windrush generation and staff from other parts of the world have had on the NHS.
The full list of talks on the NHS75 zone are:
NHS at 75 – exploring the history of Britain's beloved institution
NHS at 75 – celebrating 10 years of #HelloMyNameIs
NHS at 75 – the people that make it what it is
NHS at 75 – celebrating 75 years of Windrush
NHS at 75 – how innovation will revolutionise the next 75 years.
The NHS at 75 zone is made possible thanks to support from RLDatix.