Field nursing and leadership – Bethan's story
As the NHS turns 75, we are shining a light on some of the individuals who work incredibly hard to provide the best possible care for patients and their families.
From cleaners and porters to doctors, midwives and paramedics, it is our staff who make the health service what it is.
---
Bethan Jones is in her fourth year at the University of Leicester, studying child and mental health nursing with leadership.
In this blog, she talks about her experience as a student nurse and her passion for medical research.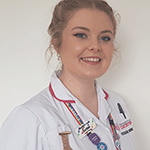 As a student nurse doing dual field nursing, my time is split between physical and mental health learning and placement settings. With an additional leadership element, my course has modules on how to be a future nurse leader, and as part of the programme we spend time with nurse leaders who we can use as our own role models.
Being a student nurse puts you in a very fortunate position. While you are tied to your university in terms of study, you have a lot of freedom to explore your own interests, something I have really been able to do throughout my four years.
Prior to starting my nursing degree, I did a degree in medical physiology, so I was always very research-minded and wanted to continue that in my nursing career.
I was put in touch with the research and development team at Leicester Partnership Trust (LPT) and they helped create a research elective placement, based on what I thought a nursing student with an interest in a career in clinical academia might want.
The placement covered a range of areas to help equip people like me for a career in clinical academia. This included:
shadowing and interviewing nurses facilitating local research projects
training and teaching sessions to understand the process of how research is created, approved and delivered in healthcare trusts
spending time with patients and patient and public involvement (PPI) committees
interviewing and shadowing nurses and allied health professionals at various stages of their academic career
consolidating this learning by producing and presenting a research proposal.
The LPT Research and Development team and I presented our findings from the pilot placement at the Royal College of Nursing Education Forum and now have the capacity to continue the placement for future student nurses. I wanted to help create something that was long-lasting so that other student nurses had the opportunity to explore a career in clinical academia before qualifying.
This placement allows students to help roadmap their careers and removes some of the mystery surrounding clinical academia and research. We need nurses in research to inform our practice and we should encourage students to engage with academia at the start of their careers.
I love research: I love how it challenges the status quo. Research, at its heart, is questioning why things are the way they are and trying to discover a better understanding of that process. I also love how research always produces more questions; while it may be frustrating at times, I enjoy how continuous research can be.
And finally: why the NHS? It really is a land of opportunity. For a career in healthcare research, I don't see anywhere better to develop myself into a clinical academic than in the NHS.
To celebrate the NHS turning 75, the National Institute for Health and Care Research has launched a Shape the Future campaign to highlight the importance of research and the role it plays in the NHS, saving money and saving lives.
The campaign will look back at improvements in patient care and pioneering techniques and look ahead to the difference research can continue to make in the future.