Mental health exhibition launched to mark NHS's 75th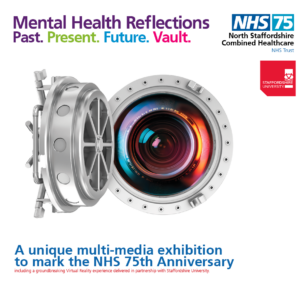 North Staffordshire Combined Healthcare NHS Trust has launched a multimedia exhibition to celebrate the NHS's 75th birthday.
The exhibition, which can be viewed online or downloaded in a free souvenir book, includes 40 filmed interviews with staff, patients and volunteers who look back at how mental health care was provided in the early days of the NHS through to today.
One of the interviewees is Dr Derrett Watts who is a consultant addiction psychiatrist in  Stoke-on-Trent.
Dr Watts graduated from Cardiff Medical School in 1987 and reflects on how Aneurin (Nye) Bevan's experience of poverty and disease led him replace, in 1948, the existing healthcare system with the NHS, providing care for all, free at the point of delivery.
The exhibition also includes interviews with students and others who give their views on the future of mental health care and the NHS. One of these is Jacob Pearson, who is a third year medical student at Keele University and is currently on placement at Harplands Hospital.
The exhibition also has a 'vault' where people can see memorabilia from the NHS's past, including a silver nurse's buckle, fidget toy and union banner.
In an innovation delivered in partnership with Staffordshire University, a number of the films are also presented in a virtual reality format for anyone accessing the website via an Oculus Pro or other VR headset.
North Staffordshire Combined Healthcare NHS Trust provides mental health, social care, learning disability and substance misuse services in the West Midlands.