New book celebrates NHS staff at 75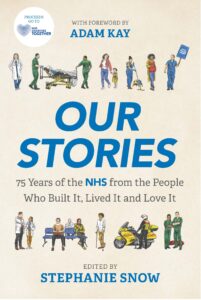 A new book celebrating NHS staff and volunteers – past and present – has been published to mark the NHS's 75th birthday.
The book, Our Stories: 75 Years of the NHS from the People Who Built It, Lived It and Love It, includes a foreword by bestselling author Adam Kay and will help raise funds for NHS Charities Together.
Compiled and edited by Professor Stephanie Snow, director of the NHS at 70 project (the first digital archive of NHS history) and a historical consultant to Call the Midwife, this landmark publication tells, for the first time ever, the rich history of the NHS through the ordinary people who have lived it.
>From Joan Meredith, who stood on street corners in the freezing winter to campaign for a new health system, to David Morrison, the doctor who pioneered one of the first intensive care units, and Klarissa Velsasco, who comforted and held the hands of people suffering from Covid-19, Our Stories tells the incredible tale of the our national health service through the voices of patients, nurses, doctors, porters and ordinary people.
Professor Stephanie Snow said: "Our Stories tells a new history of the NHS and is a tribute to all the amazing people who have contributed their stories to the archive. I'm hugely grateful for the support of Adam Kay and NHS Charities Together."
The book builds on a project, Our NHS at 70, launched in 2018 for the NHS's 70th birthday which saw more than 160 volunteers interview hundreds of NHS staff and volunteers. In total, over 2,400 staff, volunteers and patients shared their stories over a five year period, including their experience throughout the global COVID-19 pandemic.
The book is available to buy from the National Archives, as well as all good book shops.