University helps NHS workers tell their personal stories for 75th anniversary of NHS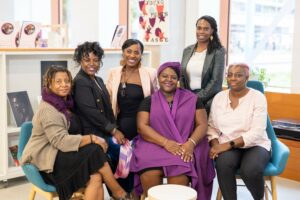 The results of an innovative creative writing project that's seen staff from Manchester Met's Manchester Writing School support health workers and their families to tell their NHS stories have been showcased at an event to celebrate the 75th anniversary of the NHS.
Untold Stories of the NHS tells the moving personal stories of Trafford General Hospital staff and members of African-Caribbean communities who have worked, or whose families have worked, in the NHS.
These stories of hope, courage and determination were shared through readings, exhibition displays, and a performance by actors, at Manchester Met's Manchester Poetry Library and Grosvenor Theatre.
Windrush and Trafford Untold Stories interwoven in the performance and exhibition include a poignant play based on the real covid-19 diaries of a nurse who worked through the pandemic, memories of Windrush generation nurses and the sacrifices they made to balance hard working lives with motherhood, and a consultant's emotional poem on her memories of working in the UK and India.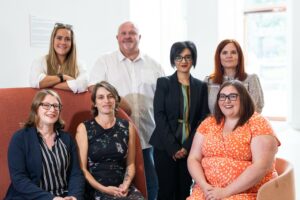 Led by Manchester Metropolitan University, funded by the Arts and Humanities Research Council and delivered in partnership with Lime Arts, NHS England, Manchester University NHS Foundation Trust and Manchester UNESCO City of Literature, Untold Stories of the NHS creates a rich and moving tapestry that explores the NHS at age 75, and the people that have made it 'our NHS'.
In addition to the celebration event to mark the culmination of the project, an Untold Stories of the NHS exhibition will run at Manchester Met's Manchester Poetry Library on Oxford Road until September, which is open to the public. It includes displays of the creative writing, illustrations that respond to them, and portraits of the 26 participants by photographer Chris Saunders.
You can read the participants' stories and see their portraits on the British Film Institute website.