Working in research – Diya's story
As the NHS turns 75, we are shining a light on some of the individuals whose incredible research feeds into the work of the NHS.
From cleaners and porters to doctors, midwives, paramedics and researchers, it is our staff who make the health service what it is.
---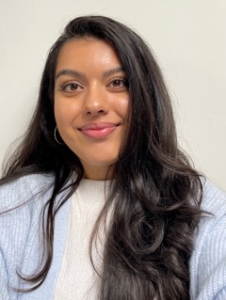 Diya Vaid is a first year PhD student at the Ear Institute, University College London.
In this blog, she talks about her PhD research and how it feeds into the NHS, as well as what she loves most about working in research.
One of the reasons I chose a career in research is because it allows you to take a question or problem and use ingenuity and creativity to come up with a solution. This makes working in research a lot of fun!
For my research I organise focus groups and interviews with older patients and their families that use the NHS hearing services. My main aim is to identify barriers for NHS healthcare professionals and patients, and how current guidelines and recommendations work for hearing health and memory care in older adults.
The problem I'm trying to solve with my research is how we can address hearing and memory problems for NHS patients. Hearing loss and memory problems are common in older adults and research has shown that hearing loss in midlife is associated with an increased risk of developing dementia. Addressing memory in hearing services for older adults may offer opportunities to reduce dementia risk.
The focus is on 'Making Every Contact Count' within the NHS. Hearing services may provide an additional opportunity to spot cognitive health problems, including risk of dementia, in older adults. This will in turn not only improve patient outcomes but may also reduce the pressure our NHS healthcare professionals are currently facing.
This will help us to understand the current guidelines for older adults and how this is put into practice, which will feed into the creation of practical guidance on how to address cognition in adult hearing services.
One thing that I love about working in research is that it has no boundaries. You can choose what you do, how much you do, and you can engage with as much research as you like. No matter how niche your research topic is, there are always collaborative opportunities. Working in research allows you to continually develop your skills, as a researcher and outside of the profession, and acquire an abundance of knowledge. If I were to sum up research using one word, it would be 'limitless'!
To celebrate the NHS turning 75, the National Institute for Health and Care Research (NIHR) has launched a Shape the Future campaign, which highlights the importance of research, such as Diya's, and the role it plays in the NHS.
Diya's research is funded by the NIHR University College London Hospitals Biomedical Research Centre (Hearing Health Theme) and supported by the NIHR Applied Research Collaboration North Thames.