South West London Health and Care Partnership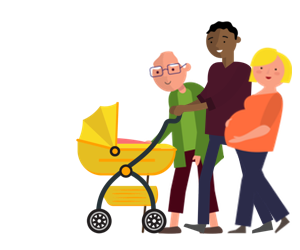 The local health and care organisations in South West London, NHS providers, local authorities, Healthwatch, and voluntary sector representatives make up the South West London Health and Care Partnership. Since 2017 we've been listening to local people and our partners to collectively develop our vision for people in South West London to Start Well; Live Well; Age Well in each of our boroughs. In April 2020 South West London Health and Care Partnership was formally awarded 'Integrated Care System' (ICS) status by NHS England. The awarding of ICS status recognises the strength of our partnership, the shared ambitions for our six boroughs, and the significant progress we have made together over the last three years to deliver better outcomes for local people. Over the last few months, we have seen very real benefits of our partnership working well as we have responded together as a health and care system to the challenges of the coronavirus pandemic.
Across South West London health and care our restart, reshape and recovery work is well underway. During 2020 health and care services have stepped up in ways never seen before to work out how to deliver services differently to respond to the COVID-19 global pandemic We want to maintain and build on the South West London Health and Care Partnership vision for local people, and we are working with partners at local level to adapt this so we can continue to provide safe services and manage COVID-19 in our communities and organisations.  Therefore, we are currently reviewing the South West London Five Year Plan and local borough plans with our partners, patients and public and our staff in this new context. We are committed to doing this at borough level as well as a South West London system with a focus on renewing our commitment to local systems and relationships.
For more information, visit the South West London Health and Care Partnership website.
Our priorities
Maintaining our shared vision for local people –that they Start well, Live well, Age well, and work together with our local communities, patients, partners and staff to adapt this.
Continuing to innovate and ensure services are safe and reflect best practice whilst we manage Covid-19 in our communities and organisations.
Preparing for winter and the pressures and demands it brings, whilst remaining vigilant considering the future potential for outbreaks and increase in infection rates across South West London
Renewing our commitment to working with partners, particularly at borough level with our Local Authorities.
Reviewing our South West London Five Year Plan and the need to set our delivery plan for the next two years which recognises the strategic ambitions set in the Five-Year Plan as well as phase two of Covid-19.
Supporting our staff through and beyond recovery –making South West London a great place to work.
Building on over two years of public and clinical engagement, as well as strong partnership work in developing the six Local Health and Care Plans and the South West London Five Year Plan.
Making sure that Health inequalities and prevention actions are clear at borough and system level and that they are effectively supported with a population health management approach.
Ensuring that our services and employment practices are fair, accessible, appropriate for the diverse communities we serve and the workforce we employ.  Equality, Inclusion, and Diversity is a critical system priority for our partnership.
Embedding learning from all of our work and experiences so far during this pandemic – locking in positive changes and tackling our challenges
South West London Children and Young People's Mental Health Programme
The South West London Health and Care Partnership has made children and young people's mental health and well-being its shared health promotion and prevention priority. As a society, we are more open to talking about mental health than ever before – but the pressures children face are changing and we have to adapt to help them. Our aim is to improve children and young people's mental health by starting earlier and giving them the skills, they need to be resilient and thrive. To do this have come together as a children and young people's partnership group, made up of Head Teachers, GPs, mental health professionals, health and social care professionals and the voluntary sector from across south west London – people on the front-line who work with children every day. We have listened to young people, their families, teachers, and front line professionals to develop a 'whole school' approach – bringing school leadership teams together with health and social care professionals to deliver training and support for children and young people, their families and teachers.
Watch the video to find out more.
Constituent organisations
The following organisations are part of South West London Health and Care Partnership. For individual contact details for these organisations, please see the NHS website.
NHS South West London Clinical Commissioning Group
Local Authorities: Croydon, Kingston, Merton, Richmond, Sutton and Wandsworth.
Acute and Community Providers: Central London Community Healthcare; Croydon Health Services NHS Trust; Epsom and St Helier University Hospitals NHS Trust; Hounslow and Richmond Community Healthcare; Kingston Hospital NHS Foundation Trust; The Royal Marsden Foundation Trust; St George's NHS Foundation Trust and Your Healthcare.
Mental Health Providers: South West London and St George's Mental Health NHS Trust; South London and the Maudsley NHS Foundation Trust.
GP Federations in each of the six boroughs.
The London Ambulance Service.
Healthwatch.
Contact South West London Health and Care Partnership
ICS leader: : Sarah Blow, Accountable Officer, NHS South West London CCG
Independent Chair: Millie Banerjee
Email: hello@swlondon.nhs.uk