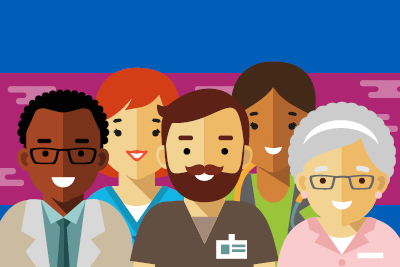 #LookingAfterYourTeam: Coaching support for those who lead, manage or organise a team or group in primary care.
Frontline primary care colleagues have been facing unprecedented challenges through Covid-19, which is why our #LookingAfterYouToo coaching space was established.
Available since April 2020 it has supported thousands of primary care colleagues to process their experiences, offload demands and develop coping skills to look after themselves.
Our new #LookingAfterYourTeam service will create an opportunity for individuals who lead, manage or organise teams, groups, services or networks, to access coaching about their team. Coaching support is available with a highly skilled and experienced coach and is centred around compassionate and collaborative team leadership. The aim is to encourage psychological wellbeing and resilience in teams while supporting them to continue to deliver projects, services and high-quality care to patients.
The coaching will be orientated towards proactively supporting you to work with your team to develop practical strategies, making small improvements and amplifying the voice of primary care across the system.
Register and book a coaching session
Who is it for? 
Staff working in the delivery of frontline primary care services who lead, manage or organises a team, group, service or network. You will be either employed by the NHS or working with an NHS funded employer delivering an NHS funded primary care contract.
How does it work?
You can register and book a coaching session via the booking links. Sessions are available Mondays to Fridays between 8am – 8.15pm and on Saturdays between 10am – 1.30pm. The first session will last up to 60 minutes.
The sessions will be delivered virtually, preferably via a video platform, but telephone appointments are also available. Subsequent sessions will be dependent on the conversation between you and your coach. Your coach might also signpost you on to further support if they think this might be helpful and you may receive follow-up emails to support you once your coaching sessions have finished.
How could it help?
Your coach can help you to create the headspace to think about your team or group, acting as a sounding board for your ideas and supporting you to clarify your thinking, exploring team topics including:
What is our collective purpose?
How do we build an environment of trust and safety?
How do we remain agile in an ever-changing environment?
How do I motivate my team to deliver this project/challenge?
How can we be a more effective MDT?
How can I help create a more resilient and compassionate team culture?
How can I support new team members and embed new roles within the team?
How do I improve our team's performance?
How can we connect better as a team?
What happens to my information?
The Institute for Employment Studies has been commissioned to conduct an evaluation of this work. All data collected will be anonymised and aggregated so that individual respondents cannot be identified. Participation in evaluation activities is voluntary and will not affect the level of support you receive. This service is run by a consortium of partners, please see the #LookingAfterYouToo service-specific privacy policy for more details about what happens to your data and how you can help us research and evaluate this offer.
Help us
You can also help us by downloading and displaying this poster in your workplace.