Vital support for young people with mental health problems – Geraldine Strathdee
As a conference on mental health medication safety takes place in London, Dr Geraldine Strathdee, National Clinical Director for Mental Health, praises a new project:
A vital new scheme could provide the exciting breakthrough we need to engage with young people about their mental health medication.
HeadMeds fills the information gap about mental health medication and is an essential resource for all young people who need it.
Knowledge is power and HeadMeds will give young people so much more information about the bewildering world of medication so, when they visit their GP or health professional, they are armed with more resources and understanding.
The exciting and cutting-edge HeadMeds scheme has been launched by
YoungMinds, a unique new website about mental health medication for young people aged 13-25.
The website was launched with the support of comedian and former mental health nurse Jo Brand as well as ITV This Morning's Dr Ranj.
HeadMeds has been funded by Comic Relief and the Nominet Trust as part of the Innovation Labs project which has developed a range of digital projects to improve young people's mental health.
Created in the style of the 'Talk to Frank' website, HeadMeds provides  young people with accessible and useful information about mental health medication during a time which is often confusing, frightening and isolating for them.
It provides information about potential side effects when a young person should go and get help.
It includes answers to some of the difficult questions that young people may have around their medication but may feel uncomfortable to ask their GP about, such as: "Will it affect my sex life or can I drink with this medication?"
Complete with real life stories and created side by side with young people, HeadMeds straight talk on mental health medication whenever young people need it.
The website has been developed by a range of pharmacology experts and young people.  It has been endorsed by the Royal College of General Practitioners and the College of Mental Health Pharmacy and we have been inundated with support for this invaluable resource.
One of the young members who helped create the site said: "Taking medication for mental health problems is not just about taking a pill – it can be an emotional and physical roller coaster too.
"It's so important young people feel they are not alone, that somewhere, someone else has faced a similar battle, a similar whirl of emotion".
Her words say it all – I hope everyone who works with young people spreads the word about HeadMeds so that it becomes the go-to resource about mental health medication for young people.
You can follow Geraldine Strathdee on Twitter: @DrG_NHS
---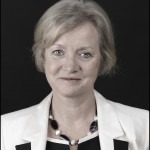 Dr Geraldine Strathdee, OBE, MRCPsych, is the National Clinical Director for Mental Health, NHS England, a consultant psychiatrist in Oxleas NHS FT, and Visiting Professor, Integrated mental health education programme at UCL Partners. For over 20 years she has held senior roles in mental health policy, regulation and clinical management, at national and London regional levels, and advises internationally on mental health service design and quality improvement, while working as a practising clinician. She has been involved in transformational large scale service development programmes, moving services from hospital based, to 24/7 home care and primary care models, in roles which have included: the Trust Director of Clinical services in Oxleas NHS FT (2005-2007), Director of Service development at the Sainsbury Centre for Mental Health and Senior Lecturer, UMDS ( 1995-1998). She was the National Professional Adviser in mental health to the Healthcare Commission and the Care Quality Commission (2005-2012).
Her particular commitment is to the translation of policy and best practice evidence into front line routine clinical practice, empowering service users to reach their potential, and staff to maximise their time to care. She is passionate about the development of leadership competencies and using information to enable informed decision-making.
As London SHA Associate Medical Director (2009-2013), with responsibility for mental health, she led transformational change through the development of clinical networks for dementia and primary care mental health CCG leaders, developed ground breaking commissioning support care pathway profiling informatics tools, and high impact educational programmes. She was awarded the prestigious RCpsych Psychiatrist of the Year award in 2012.
Clinically experience:
Clinically, she has worked in a wide range of primary care, inpatient and community services, and latterly with people with complex and multiple needs, as a Consultant Psychiatrist for the Bromley Assertive Community Treatment team in Oxleas. She is committed to providing services which enable services users to live in their own homes, develop their own personalised care plans and self management expertise to achieve recovery, while at the same time working with community agencies to deliver coordinated, responsive, care pathways.
Service evaluation and research interests: Her teams have won awards for their use of technology in improving care, using patients as experts in staff training and leadership awards for new Ways of Working, the redesign of roles. Her research interests have included the fields of primary care mental health, evaluation of community services and dual diagnosis. Current research interests include the evaluation of competency based leadership programmes and clinical networks to drive transformational improvements, and high impact educational programmes.
Categories: Guest blogs • Home • Mental health • News