Be a flu fighter and get your jab – Professor Jane Cummings
The Chief Nursing Officer for England explains why she is backing NHS Employers' #jabathon campaign aimed at getting more NHS workers to have the flu vaccination:
The importance of receiving the flu jab is undeniable.
Each year, flu causes severe illness in up to five million people worldwide. In extreme cases, this can result in up to 500,000 deaths. To bring this closer to home, our hospitals treated more than 1,000 patients with flu in intensive care settings in 2013-14 and, tragically, almost 10 per cent of them died. However, this number can be reduced by using a vaccine that is up to 70 per cent effective.
I'm a flu fighter and I've had my flu jab – have you?
I have a flu jab every year, partly because I have diabetes and I am particularly at risk, but also because I am keen to help to protect my family, my colleagues and any patients or staff I meet when I am visiting services and organisations.
Flu is a serious illness that can lead to death, and with up to one in four healthcare workers at risk of becoming infected with flu, it's really important that staff protect themselves.
In 2014-15, just over 541,000 frontline healthcare staff were vaccinated – that's just over half of front line staff. While this is a great number, we should all aim to protect ourselves and others from the virus.
Nursing, midwifery and care staff can take a series of proactive actions to tackle flu. In particular, there are three things that you should do to help tackle flu this winter:
Firstly, you should have your flu jab in order to protect not just yourself, but your patients, friends and family.
Secondly, wash your hands regularly. You no doubt do this regularly day in, day out but particularly if you sneeze or cough, you risk passing flu on to others without even having the symptoms yourself.
Finally, if you have flu, stay away from work until you are better. The flu virus is highly infectious and outbreaks can happen quickly.
I know many staff working on the front line have a number of questions about the flu vaccine. I'd like to reassure you all that the vaccine is safe, it won't give you flu and the side effects, such as mild fever or muscular pain, are manageable.
Remember, everyone needs the vaccine each year as there are different variants of the virus that often change annually. It's particularly important for people over the age of 65, women who are pregnant, individuals with long term health conditions such as diabetes and asthma, and small children to be vaccinated.
So I encourage you all to roll up those sleeves, follow my lead and get your flu jab to protect your patients, your family, your colleagues and, of course, yourselves.
---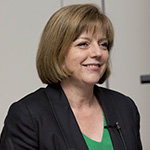 Professor Jane Cummings is the Chief Nursing Officer for England.
Before progressing into general management she was previously a nurse specialising in Emergency Care and has held a wide variety of clinical and managerial roles including Director of Commissioning, Director of Nursing and Deputy Chief Executive.
In February 2014, she became the National Lead for emergency care which involved working closely with clinical colleagues and NHS managers to agree and implement the 98% operational standard. She has also worked as the nursing advisor for emergency care, and with the Royal College of Nursing to develop the role of nurses and improve the experience and care of patients requiring urgent and emergency care.
Jane moved to NHS North West in November 2007 where she held executive responsibility for the professional leadership of nursing, quality, performance, QIPP and commissioning. In October 2011, she was appointed the role of Chief Nurse for the North of England SHA Cluster.
She began the fulltime position of Chief Nursing Officer for England in June 2012 and is the professional lead for all nurses and midwives in England (with the exception of public health) and published the '6Cs' and 'Compassion in Practice' in December of that year.
Jane is the NHS England national director sponsor for the programme to transform care for people with learning disabilities and chairs the delivery board. She is also the lead national director for maternity.
Jane was awarded a Doctorate by Edge Hill University and is a visiting professor at Kingston University and St George's University, London.
She is also a trustee for Macmillan Cancer Support and a clinical Ambassador for the Over the Wall Children's Charity where she volunteers as a nurse providing care for children affected by serious illnesses.
Categories: Blogs • Home • Jane Cummings