BME Senior Nursing Leadership – Professor Jane Cummings
Professor Jane Cummings, Chief Nursing Officer (CNO) for England discusses future plans for the CNO Black and Minority Ethnic (BME) Strategic Advisory Group.
Joan Myers OBE has chaired my CNO BME Strategic Advisory Group for over four years and has done a fabulous job. Joan is an inspirational leader, a compelling public speaker and someone I always describe as being a constructive, positive and 'a cup half full' person. Her tenure as Chair is coming to an end and recently Joan has worked with colleagues to develop a future plan for the CNO BME Strategic Advisory Group.
We are now advertising for a new Chair and looking for someone who is a senior nurse leader (Director of Nursing or similar) to take up this role when Joan finishes.
We are looking for someone to continue the development and leadership of this work programme on my behalf, influencing senior colleagues nationally and through the establishment of a new Executive Committee with regional input. The successful candidate will have a track record of delivery of improvements in diversity and inclusion.
An application pack has been sent out via the regional nurses and if you are interested in the role you can contact Julie.lockwood1@nhs.net for an application pack. Completed applications should be submitted to the same email address by Tuesday 10 January 2017. The indicative time commitment for this role will be approximately one day per month.
The National Nursing BME Steering Group which is chaired by Dr. Lynne Wigens, Regional Chief Nurse NHS England Midlands and East, includes members from NHS Improvement, the NHS Leadership Academy, Royal College of Nursing, Workforce Race Equality Scheme team and the chair of the CNO BME Strategic Advisory Group. This group provides support to the Strategic Advisory Group and helps to coordinate its work, ensuring the six priority areas are progressed.
The six priorities are:
To provide a clear and compelling narrative about the importance of inclusive leadership and inclusive cultures to both patient and staff outcomes
To account for the performance on the WRES and other related workforce equality priorities and standards by bringing together information and intelligence drawn from a number of sources
To work with a wide range of stakeholders to co-ordinate and align activities reporting to the Equality and Diversity Council
To promote evidence-based approaches to ensuring staff inclusion, the promotion of equality, and the valuing of diversity in all aspects of NHS workplace culture
To focus on building inclusive nursing leadership through leadership development and career development initiatives to ensure that the search for talent is demonstrably deepened and broadened in scope and outcomes
To ensure effective governance and communication of BME nursing, midwifery and AHP programme activities
This is an exciting opportunity for a nurse leader who is committed to ensuring that we continue to develop and build a workforce that represents the communities we provide care for at every level.
---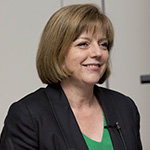 Professor Jane Cummings is the Chief Nursing Officer for England.
Before progressing into general management she was previously a nurse specialising in Emergency Care and has held a wide variety of clinical and managerial roles including Director of Commissioning, Director of Nursing and Deputy Chief Executive.
In February 2004, she became the National Lead for emergency care which involved working closely with clinical colleagues and NHS managers to agree and implement the 98% operational standard. She has also worked as the nursing advisor for emergency care, and with the Royal College of Nursing to develop the role of nurses and improve the experience and care of patients requiring urgent and emergency care.
Jane moved to NHS North West in November 2007 where she held executive responsibility for the professional leadership of nursing, quality, performance, QIPP and commissioning. In October 2011, she was appointed the role of Chief Nurse for the North of England SHA Cluster.
She began the fulltime position of Chief Nursing Officer for England in June 2012 and is the professional lead for all nurses and midwives in England (with the exception of public health) and published the '6Cs' and 'Compassion in Practice' in December of that year.
Jane is the NHS England national director sponsor for the programme to transform care for people with learning disabilities and chairs the delivery board. She is also the lead national director for maternity.
Jane was awarded a Doctorate by Edge Hill University and is a visiting professor at Kingston University and St George's University, London.
She is also a trustee for Macmillan Cancer Support and a clinical Ambassador for the Over the Wall Children's Charity where she volunteers as a nurse providing care for children affected by serious illnesses.
Categories: Blogs • Home • Jane Cummings