Posts by Adebusuyi Adeyemi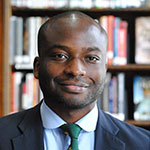 Adebusuyi (Ade) Adeyemi currently works for NHS England and NHS Improvement and sits on the Executive Committee of the NHS BME Network.
He is also the Director of the Chatham House African Public Health Leaders Fellowship. Chatham House is The Royal International Affairs Think Tank and Ade supports policy development work with developing countries across sub-Saharan Africa and South East Asia.
He is also founder and Managing Director of GlobalHealthJobs.com, an international health jobs platform that helps bring hundreds of health professionals from overseas, into the UK.
Ade is a member of the Davos World Economic Forum's prestigious Global Shapers community of leaders and senior associate member of the Royal Society of Medicine. He has also served on the National Executive Committee of the Fabian Society (Britain's oldest political think-tank) and was nominated as a 2014 'Rising Star' of the NHS by leading publication Health Service Journal (HSJ).
Writing for the Fabian Society, Ade won its 2017 annual prize for young writers for his discussion paper on ideas to improve BAME representation in the Labour party [Outsiders, Adeyemi & Bailey, Dec 2016]. Ade writes in a personal capacity.