Posts by Adebusuyi (Ade) Adeyemi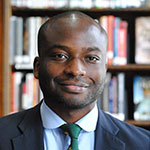 Ade is Co-Chair for the Black, Asian and Minority Ethnic Staff Network of NHS England and NHS Improvement and was awarded an MBE for services to Global Health policy.
He is currently supporting a number of commercial activities at NHS England and NHS Improvement, including PPE procurement for COVID-19 and establishing the NHS Long Term Plan ambition for the NHS Export Collaborative, exploring the ways the NHS can collaborate around their innovations and engage overseas.
Ade is a Global Health policy expert who is also a Director at the Think Tank Chatham House, where he supports Ministry of Health stakeholders across Africa, by strengthening their leadership and policy development capacities.
He is also the Managing Director of the world's biggest Global Health Jobs platform www.globalhealthjobs.com. Ade is also the founder and Executive Director for the African Healthcare Hackathon (www.ahhack.com), an annual hackathon (an event typically lasting several days where a large number of people collaborate intensively on a project) that has worked on developing solutions for organisations such as WHO, Médecins Sans Frontières, Save the Children and UNICEF.
He has also served on the National Executive Committee of the Fabian Society (Britain's oldest political think-tank) and was Chair of the Young Fabian's (the under-31 section) Health Network.
Ade is also studying for a Doctor of Philosophy in Global Health and Social Medicine at King's College London.