Posts by Adrian Bradley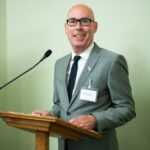 Adrian Bradley is Head of Health and Wellbeing at the EFL Trust – the national charity that represents, advises and supports 72 charities linked to professional football clubs across England and Wales.
Adrian is responsible for a wide ranging public health offer including an expanding portfolio of person-centred support services in non-clinical settings designed to encourage healthy choices and self-management of conditions. These include health education in primary schools, adult testing and screening programmes, cancer recovery services, dementia support groups, drug and alcohol recovery services, adult mental health support groups, services tackling chronic loneliness in older people, the FIT FANS adult weight management programme, and Extra Time Hubs – a shared interest community of people in their retirement who meet on a weekly basis to socialise and to do the things they enjoy.
He has over 25 years' experience in local government and the charity sector. Prior to joining EFL Trust in 2016 he held senior roles as Director of Strategy for the Child Migrants Trust and at Alzheimer's Society where he was National Lead for Young Onset Dementia.