Posts by Alison Cook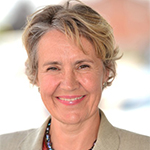 Alison Cook is the Director of Policy at the British Lung Foundation.
She previously worked as a broadcast journalist and programme editor for the BBC in news and current affairs for over 12 years, before starting a second career in strategic communications.
Alison worked for the Human Fertilisation and Embryology Authority (HFEA) as Head of Press and managed public consultations and press coverage around saviour siblings, sex selection and human cloning before moving on to work in government as a policy communications advisor to Ministers, in both the Department of Health and Number 10.
Following that Alison became Director of External Affairs at the Royal College of Surgeons, setting up their communications and policy teams and steering the College through the Health and Social Care Act.
Her first role for a charity was as Director of External Affairs for Alzheimer's Society.
Alison is a scientist by background. She completed a PhD in signals processing in the nervous system, looking at pain modulation and then a post doc in colour vision at University College London.