Posts by Amy Frewin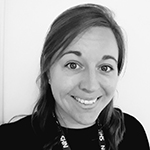 Amy Frewin is the Clinical Transformation Lead for the Personalised Care Programme at Hertfordshire and West Essex CCG.
She qualified as a physiotherapist in 2013 and became involved in the programme by taking part in a 100 day challenge in October 2017.
After showing great enthusiasm and passion for improving the personalisation of care, Amy decided to take on a role within the programme with a particular focus on workforce.
Amy continues to work for a community healthcare trust and enjoys being able to share her experiences across both roles in order to shape the future delivery of services.