Posts by Andrea Lake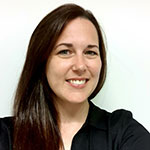 Andrea qualified as a nurse in 2008 after working as a healthcare assistant from the age of 18. Andrea's first role as a staff nurse was on a high dependency unit. She has worked within a split clinical and research role in the speciality of diabetes at Cambridge University Hospitals Foundation Trust for nine years. Clinically, Andrea is a senior Diabetes Specialist Nurse primarily working within the inpatient setting. She also has experience with insulin pump therapy, DAFNE and all aspects of inpatient and outpatient adult diabetes services. Within Andrea's research role, she is the lead diabetes research nurse and supports commercial and academic research, as required, through all stages of the process from development of an idea through to dissemination.
Andrea has an MSc in clinical research and several publications. She is also the vice chair of the Diabetes UK clinical study group 4 in acute care. Andrea's personal areas of interest are inpatient diabetes management and how research can improve this, translating research into clinical practice and clinical academic careers for nurses, midwives and allied health care professionals.
Andrea loves to use twitter as platform to share good practice and experience and believe it is important to listen and learn from each other. You can follow her at @AndreaLake1984.