Posts by Annwen Jones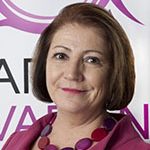 Annwen Jones has been Chief Executive of Target Ovarian Cancer since its formation in 2008. She is the Vice-Chair of the World Ovarian Cancer Coalition and co-founder of World Ovarian Cancer Day.
Annwen was appointed by NHS England to the National Cancer Drugs Panel in 2014 and currently sits on several clinical trial steering committees, including the UK Collaborative Trial of Ovarian Cancer Screening (UKCTOCS).