Posts by Blake Dark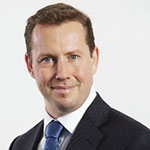 Blake is the Commercial Medicines Director for NHS England. He is NHS England's chief negotiator with the pharmaceutical industry and SRO for the broader cross-organisational Medicines Value Program.
Blake's team oversee all commercial discussions with companies in relation to individual drugs: Drugs that trigger the £20 million budget impact test (BIT); commercial arrangements associated with the Cancer Drug Fund (CDF); commercial arrangements relating to NICE's Highly Specialised Technology appraisal programme (HST); commercial arrangements relating to NHS England's clinical policy process overseen by its Clinical Priorities Advisory Group (CPAG).
Blake also leads a procurement function relating to medicines used in secondary care; Commercial Medicines Unit (CMU).
Before joining NHS England in Oct 2018, Blake held senior roles in the pharmaceutical industry for 24 years at Sanofi. Blake has led both innovative pharma and generic businesses in the UK for 15 years and 9 years running innovative pharma businesses across multiple countries in Europe and as Commercial Operations Head for Sanofi's global generic's company.