Posts by Brian Kelly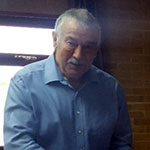 Brian Kelly is a 73 year old, retired fireman.
Following 30 years services in the fire service, he spent 10 years working at the Bank of England printing works, where he was in charge of their Fire Section.
Brian's final employment was as a support worker in the Home Treatment Team for a community mental health team.
He retired last year to care for his wife who has just reached the age of 78 and who was diagnosed with early onset Alzheimer's four years ago. Brian has been a full-time carer for his wife for the last two years.
When his caring role allows, Brian's interests are D.I.Y, some golf, getting involved in the garden, walking, and generally keeping busy. Brian also enjoys reading and watching TV, when time permits.