Posts by Carol Munt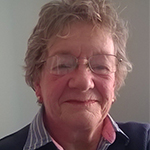 In 1982 Carol Munt was a passenger involved in a road traffic accident in France, resulting in a fractured skull, brain haemorrhage and coma. On return to the UK she was diagnosed with Narcolepsy & Cataplexy as a result of the trauma.
She is passionate about Co-Production and Patient & Public Involvement.
She is an Honorary Lecturer & Doubleday Affiliate at Manchester Medical School.
Carol was recently adopted onto the NHS Always Events Advisory Group; is an active member of HQIP Service User Network, NIHR-NHSE Patient Experience Team, Kent & Medway STP Patient & Public Advisory Group and Workforce programme, DeepMind Health Users Group, Rosamund Snow community and also a member of the Q community.
A qualified nurse, Carol has also been a successful business woman, and a Parish Council Chair. She has been a reader for the Talking Newspaper for the Blind since the 1970s.
She lives in Tunbridge Wells and lists travel and photography among her hobbies.
Her regular tweets about health-related news are @muntma.