Posts by Chris Smith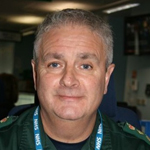 Chris Smith is Clinical Director of Ambulance, Urgent Care and Community Services part of the My Life a Full Life vanguard (Isle of Wight) vanguard.
Chris started his career with West Midlands Metropolitan Ambulance (WMAS) service in March 1979 as a patient transport driver. He moved to the emergency service as a qualified Ambulance Man in August 1981 and became a paramedic in July 1987.
In 1992 he became a supervisor and was then promoted to Area Superintendent in September 1994. He then held a number of senior manager positions and became Deputy Director of Operations in 1997. In 1998 he then became Director of Operations/Head of Training.
He left WMAS in July 2000 and after a brief spell with Warwickshire Ambulance Service he came to the Isle of Wight on 22nd January 2001 as a Clinical Team Leader. In March 2002 he was seconded to Hampshire Ambulance Service as a Director of Operations returning to the IOWAS in July 2003.
Chris became Head of Ambulance in December 2009 and during this time has lead the team on the development of the integrated care hub. He took over ED MAAU and Bed Management in September 2014 and in November 2015 became Clinical Director of Ambulance, Urgent Care & Community along with Clinical Director of Integrated access and Integrated Localities.
Chris currently also chairs the National Ambulance Control group and holds a seat on the National Director of Operations Group and the National Emergency Care Standards Group.