Posts by Dave Gerrard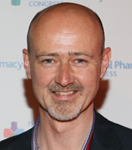 Dave Gerrard works as an advanced pharmacist practitioner for Northumberland Tyne Wear NHS Foundation Trust and is joint pharmacist lead for the STOMP programme at NHS England.
Dave runs STOMP clinics in both Newcastle and Sunderland community learning disability teams where he works in partnership with people having a learning disability, autism or both, their carers and family members together with specialist behavioural nurses to challenge the over-medication of psychotropic medications.
Dave joined the trust as a mental health pharmacist 10 years ago and has specialised in learning disability services for the last seven years.