Posts by Deborah Tomalin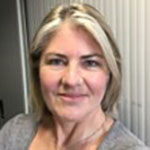 Deborah took up the role of NHS England Director of Public Health Commissioning and Operations in April 2019, having worked previously as the Director of Commissioning in the Kent, Surrey and Sussex Local Office of NHS England (South East Region) which included primary care and public health. Deborah is responsible for the commissioning and operations of the Section 7a services in England – screening (cancer and non-cancer), immunisation and Child Health Information Services. Underpinning successful delivery of all these services is digital technology and Deborah works very closely with NHSX and NHSD.
Deborah started working for NHS England in April 2013 as Associate Director South East Coast Strategic Clinical Networks & Clinical Senate creating 4 strategic clinical networks and a clinical senate for Kent, Surrey and Sussex and then became Director of Commissioning in 2014, which at that time also covered specialised commissioning.
Prior to NHS England, Deborah spent over 16 years setting up and managing "clinical networks" in the NHS starting with the Sussex Cancer Network in 1999 and moving by 2010 to directing one team running 14 networks.
Deborah started working in the NHS over 37 years ago training to be a nurse, completing a BSc in Nursing Studies at St Georges Hospital/Kings College (KQC) as one of the first nurse graduates, and I then held a variety of nursing posts in London, moved into clinical research trials and then honed this interest in research working first at the Royal College of Nursing and then the Nursing Research Unit at Kings College. In 1992, Deborah moved to Brighton Health Care to establish a clinical audit function and then clinical risk management systems with a spell as Assistant Director of Quality.