Posts by Debra Gilderdale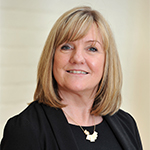 Debra Gilderdale is Deputy Director of Bradford District NHS Care Foundation Trust and is responsible for acute and community mental health, CAMHS, IAPT and learning disabilities.
Her role includes the transformation of services across all teams, including acute and crisis mental health, taking a whole-system integrated approach to providing high quality care.
Debra is also leading on the Urgent and Emergency Care Mental Health Liaison Vanguard for West Yorkshire, and is a Positive Practice Mental Health Collaborative specialist lead for Transformation and Improvement.